2021 Tasmanian Tourism Awards
After a hiatus in 2020, the Tasmanian Tourism Awards are back!
Tourism operators across Tasmania are invited to enter this year's program that is all about recognising and celebrating resilience and innovation in tourism,
This year's Awards program is a little different - with some refreshing changes to the categories and criteria, reflective of the challenging operating environment we've all been a part of.
We're so proud of the effort our industry has put in to stay informed, meet customer needs and run a viable business that we encourage all Quality Tasmanian tourism businesses to consider looking at the awards this year as an opportunity to celebrate your own resilience and success.
This is your opportunity to be recognised for the effort you and your team have made to get through COVID, adapt, innovate and deliver exceptional Tasmanian experiences.
Give your business the edge - and stand out as one of Tasmania's finest in a discerning visitor market.


About the Awards
The Tasmanian Tourism Awards are the premier Awards program in the Tasmanian tourism industry. The Awards are designed to encourage and recognise innovation, excellence, quality and sustainability in tourism, while providing a benchmark for industry best practice.
Coordinated by TICT each year for and on behalf of the Tasmanian tourism industry, the Tasmanian Tourism Awards form part of the prestigious Qantas Australian Tourism Awards. By winning a Tasmanian Tourism Award, our most outstanding local operators attain national recognition, automatically becoming a finalist in the Qantas Australian Tourism Awards.
There are 25 categories to choose from, with a category relevant to every tourism operator. Entrants complete an online submission and a site visit. TICT offers a comprehensive entrant support program inclusive of your entry fee, and all entrants are strongly encouraged to take advantage of this assistance to prepare their best possible entry.
Finalists are announced in early October at industry celebrations in Launceston and Hobart.
All finalists are then invited to celebrate their achievements with staff, family, friends and industry colleagues at the Tasmanian Tourism Awards Gala in November. See more key dates .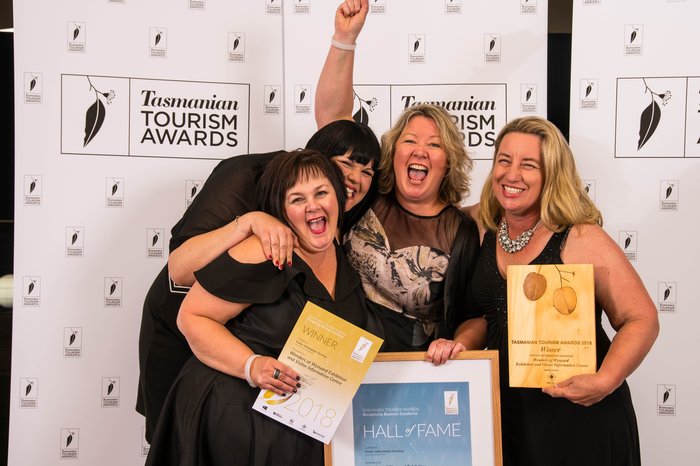 Overview of the changes to the 2021 awards program
The qualifying period will incorporate the past 2 years from: 1 July 2019 to 30 June 2021
The total word count is reduced to 8,000 words
Five categories have been renamed
An online review and consumer rating score will now contribute to the final score
Many question changes reflect the exceptional circumstances over the qualifying period with a focus on resilience and innovation
A new Judges Choice Award will recognise a National finalist who has demonstrated great resilience; and
We've halved the entry price this year to $99


How it works
Read the category descriptions carefully
Choose the category most relevant to your business and product (if appropriate, you may enter more than one category)
Nominate in the portal and pay the entry fee: $99 per entry incl GST
Take up the offer of free awards mentoring program
Finalise your entry and submit by the September deadline
Host a visit from our site judge
Nervously await the announcement of finalists in October
Attend the Gala dinner in November to celebrate the winners
Nominations Now OPEN
Nominations for the 2021 Tasmanian Tourism Awards open Wednesday 17 March 2021.
Nominations close on Friday 4 June 2021 at 5pm.
Click here to nominate your business


Why Enter?
There are many benefits to entering the Tasmanian Tourism Awards. Of course, winning at the state or national level is the ultimate reward! But for most entrants, the other benefits they gain from participating in the Awards process are far more important.
Entering the Tasmanian Tourism Awards forces you to conduct an intensive review and analysis of your tourism business.

The timing is perfect: it's the end of the financial year, business quietens and you're making plans for the year ahead.

The Awards ask you to focus, and review all the important components of your business (product, business planning, marketing, customer service and sustainability).

A mentor will help during the submission process, then a team of judges score and provide feedback on your submission, overseen by a chair of Judges and independent auditor - certainly a comprehensive and credible awards program!

Entrants take the time to review the goals they've set for their business, analyse results, identify and celebrate achievements, and uncover weaknesses. This all helps with planning for the next year, and making your business even better!

Repeat entrants find that committing to participate in the Awards process contributes to the ongoing improvement and success of their business….

and the possibility of winning a beautiful trophy!
Join a Tourism Awards Information Session to learn more, held via Zoom this year, or speak to the Awards Coordinator, Grace Keath.
But don't just take our word for it, check out what some of our past entrants have to say:
In summary, entering the Awards helps your business to:
Gain access to the Tasmanian Tourism Awards logo, a striking symbol of quality and excellence

Raise your business profile within the industry, the broader community and above all, the visitor market

Achieve recognition of excellence from your tourism peers

Build morale and team spirit among your staff and colleagues.

Undertake a focused review your business goals, results and plans for the coming year

Get confidential feedback from our team of experienced judges

Benchmark your business against fellow industry members locally, and across Australia.
Tasmania's premier awards for tourism excellence
The Tasmanian Tourism Awards form part of the Australian Tourism Awards Program, and are acknowledged as the premier awards for tourism and hospitality excellence.
The Awards are a major part of the Tasmanian tourism calendar each year.
Learn more about the Program and past winners:
2019 Tasmanian Tourism Awards Results
The reigning winners in each category
More information
Australian Tourism Awards results
Tasmania's medalists at the 2019 Qantas Australian Tourism Awards
More information
Tasmanian Tourism Hall of Fame
Operators who have achieved outstanding success at the Tasmanian Tourism Awards by winning the same category for three consecutive years enter the Tasmanian Tourism Awards Hall of Fame.
More information
Tasmanian Tourism Champion & The Tourism Minister's Young Achiever
Each year at the Tasmanian Tourism Awards Gala, we recognise the outstanding achievement and contribution of individuals to our Tasmanian tourism industry.
More information
The Weindorfer Trophy
All Tasmanian Tourism Award category winners receive the Weindorfer Trophy - custom-designed, and handmade each year from native Tasmanian timbers.
More information