TICT Quarterly - The Tasmanian Tourism Industry Journal
TICT Quarterly is the official industry journal of the Tasmanian tourism industry.
Published by Tourism Industry Council Tasmania, TICT Quarterly is designed to provide tourism operators and professionals across the Tasmanian tourism industry with a regular journal of in-depth and thought-leading articles on priority issues in the industry.
TICT Quarterly also profiles leading Tasmanian tourism operators and features articles on issues many operators are dealing with across the State.
The print editions of TICT Quarterly are distributed to over 1,000 Accredited Tourism Operators across Tasmania.
To feature or advertise in TICT Quarterly, TICT Quarterly - Inquiry to Advertise.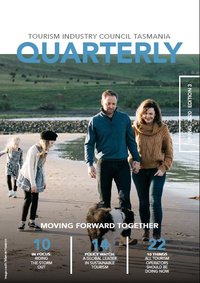 TICT Quarterly - Spring 2020
Exploring Tasmanian tourism's response to these 'unprecedented times'.
More information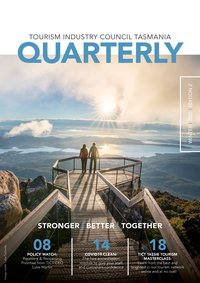 TICT Quarterly - Winter 2020
Featuring commentary from the leaders of the Tasmanian tourism industry on planning ahead for the recovery from COVID.
More information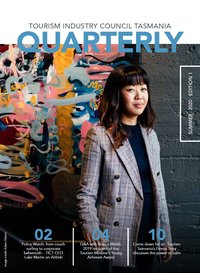 TICT Quarterly - Summer 2019/20
Our inaugural edition of TICT Quarterly featuring in-depth articles on Airbnb, and profiling some of our leading industry stars, Bianca Welsh and Roaring 40s Kayaking.
More information