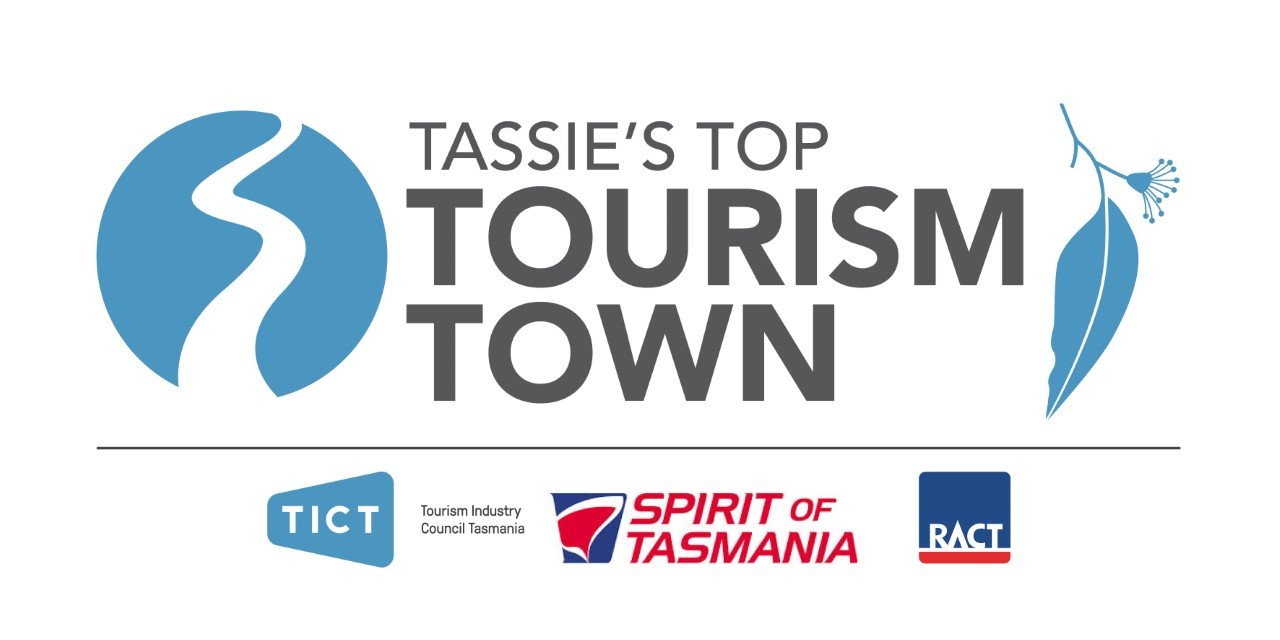 Tasmania's towns and villages are where our visitors find the real Tasmania – the characters, the quirky personalities, the history and stories, that make exploring our State so rewarding.
Our towns are also where our tourism dollars are best spent – supporting local businesses and local jobs, and keeping our regional communities vibrant for everyone.
The Search for 'Tassie's Top Tourism Towns' is back again for 2021.
This competition is an opportunity for Tasmanian towns of all sizes to showcase what makes their special part of Tassie such an amazing visitor destination in its own right.
It is also about having your town recognised as a place where tourism operators, businesses, and the local community band together to make your town the very best destination it can be.
This year there are two categories:
Spirit of Tasmania Small Tourism Town - for populations under 5,000
RACT Top Tourism Town Award - population over 5,000
Entries are open to Visitor Information Centers, Local Tourism Associations, Chambers of Commerce, Councils, or motivated groups of local operators passionate about elevating the profile of their town.
All entries will be profiled extensively through social media.
Entrants and winners of both categories will feature on RACT marketing channels, including Journeys Magazine, RACT eNews and the RACT social media accounts.
Spirit of Tasmania will promote all entries on their website, social media accounts and a dedicated EDM, and TICT through our industry media channels. Your Regional Tourism Organisations and industry partners will also support entries from their region.
In 2021, the Tassie's Top Tourism Town program forms part of the national Search for Australia's Top Tourism Towns - with Tasmania's two winners being judged alongside the Top Towns in every State and Territory.
How to Enter?
Tassie's Top Tourism Towns is all about showcasing and celebrating with engaging content what makes our towns so unique and special.
All the details for entering are available in the Top Tourist Town Entrant Guidelines, along with entry requirements and tips to complete the very best entry.
2021 Entrant Guidelines - Tassie's Top Tourism Town
---
All entrants from the 2020 search for Tassie's Top Tourism Town are welcome to again submit their entry from last year, as long as the content is inline with the updated guidelines, and submitted through the dedicates portal. They will NOT automatically be entered.
Any town who did not enter in 2020 are very welcome and encouraged to enter this year.
---
Nominate your town here
Tassie's Top Tourism Town - Nomination Form
More information
Each Town is required to submit three pieces of content showcasing what's unique and special about your town, and why visitors should visit.
A Snappy Editorial Article
A short editorial article on why visitors should come to your town or city and what they could experience during their visit.
The article can be up to 500 words and should be written in the style of a feature article for a print or online newspaper or magazine. It must be accompanied by six high-quality images highlighting the top attractions in your town.
A few great examples:
Gourmet Traveller - Launceston
Luxury Travel Mag - Madagascar
A 30-second to 2-minute promotional video clip highlighting the key attractions and experiences in your town or city.
The finalists video will feature on major social media channels, with the incentive to encourage viewers and supporters to vote for your town.
The video can be professionally produced, or simply something done creatively through a smart phone or Go Pro - just make it fun, interesting, and highlighting what's special about your town and why people should visit it.
Something like this:
An Engaging Visitor Itinerary
A short self-drive itinerary that starts and finishes in your town, and showcases your local and nearby attractions, experiences, accommodation and dining options.
The itinerary should be for 3 to 4 days starting and finishing in your town. As part of the itinerary, define your target market for your trip, and outline a fun and engaging itinerary to explore the vest of your town and its surrounds.
Here's some inspiration:
Luxury Travel Magazine - Self Drive Tasmania
Sound A Little Daunting?
TICT will run a webinar on March 25 for entrants to work through the entry process.
We'll bring together our in-house gurus and our friendly tourism consultants to give you some advice and insights on how to prepare your entry.
What's an itinerary look like? What should your editorial include? How to pull together a snappy little video on a small budget.
Your local Regional Tourism Organisation, or Council, may also be available to assist you in finalising your entry.
For inspiration, check out last years magnificent entries here
2021 Entrant Guidelines - Tassie's Top Tourism Town
Judging
We're asking Tasmanians and our visitors to decide Tassie's Top Tourism Town and Tassie's Small Tourism Town.
In May, we will invite the general public to jump on the RACT website, review the videos submitted by our finalists showcasing our entrants, and then vote for their favourite Tassie Tourism Town. This is your chance to encourage your local community, fellow tourism operators and visitors to vote for your town.
Awards
Winners
This year we are excited to partner with RACT & Spirit of Tasmania who are providing an excellent opportunity to expose our Towns entries to a wide audience.
The 2021 winners of Tassie's Top Tourism Town, Tassie's Top Small Tourism Town & People's Choice will receive:
Publication in the August/September issue of Journey's Magazine which is distributed to over 118,00 Tasmanian house holds
Publication in the August/September edition of Digital Journeys which is sent to 97,000 members
Publication in the June edition of RACT eNews which is sent to over 104,00 members
Content uploaded to the RACT website with over 63,000 sessions every month
Content shared on RACT social media accounts with over 19,000 Facebook followers, 3,300 following on twitter and Instagram.
Content shared on The Spirit of Tasmania social media accounts with over 98,000 Facebook followers and 8,000 following on Instagram
Content shared on Spirit of Tasmania website
Dedicated EDM to Spirit of Tasmania newsletter subscribers
They will also be especially reocognised at the prestigious 2021 Tasmanian Tourism Awards Gala in November
They will also go on to represent Tasmania as finalists alongside other Top Tourism Towns from other Australian States and Territories, in the inaugural Australia's Top Tourism Town, to be announced later this year. This will be a major national industry event, with support from Tourism Australia and the Australian Government
Spirit of Tasmania Small Tourism Town Winner will receive $2000 to put towards promoting their win
RACT Top Tourism Town Winner will receive $2000 to put towards promoting their win
ALL category entrants will be shared through TICTs Social Media Channels. In 2020, each town's entry was viewed by between 15,000-20,000 followers.
Timeline
This initiative is being launched at a busy time of year - so we're allowing plenty of time for entrants to get their heads around what it's all about and submit their entry.
Nominations Open
19 February 2021
The first step to enter the 2021 Top Tourism Awards is to nominate the town through the TICT website using the nomination form
Nominations Close
21 March 2021
Make sure you've registered your nomination so we know who is entering. Don't worry - your entry doesn't need to be in till May!
Entrant Webinar
25 March 2021
Keep an eye out for details on our entrant webinar for tips and advice on how to complete your entry
Entries Close
9 May 2021
Entries must be submitted by this date.
Judging & Voting Opens
17 May 2021
Online public voting via the RACT website site + Entry Judging by our Tourism Gurus
Winners Announced
4 June 2021
RACT Top Tourism Town + Spirit of Tasmania's Small Tourism Town announced at an industry event
To Enter:
Entry is FREE!
Download the Entrant Guidelines and make sure you're clear on the rules
Enter by using the nomination form on the TICT website
Keep an eye out for details for the nominees' webinar and make sure you tune-in
Start work on your entry and aim to have it finalised to submit by May 9
Tassie's Top Tourism Town is an initiative of TICT with thanks to our partners: