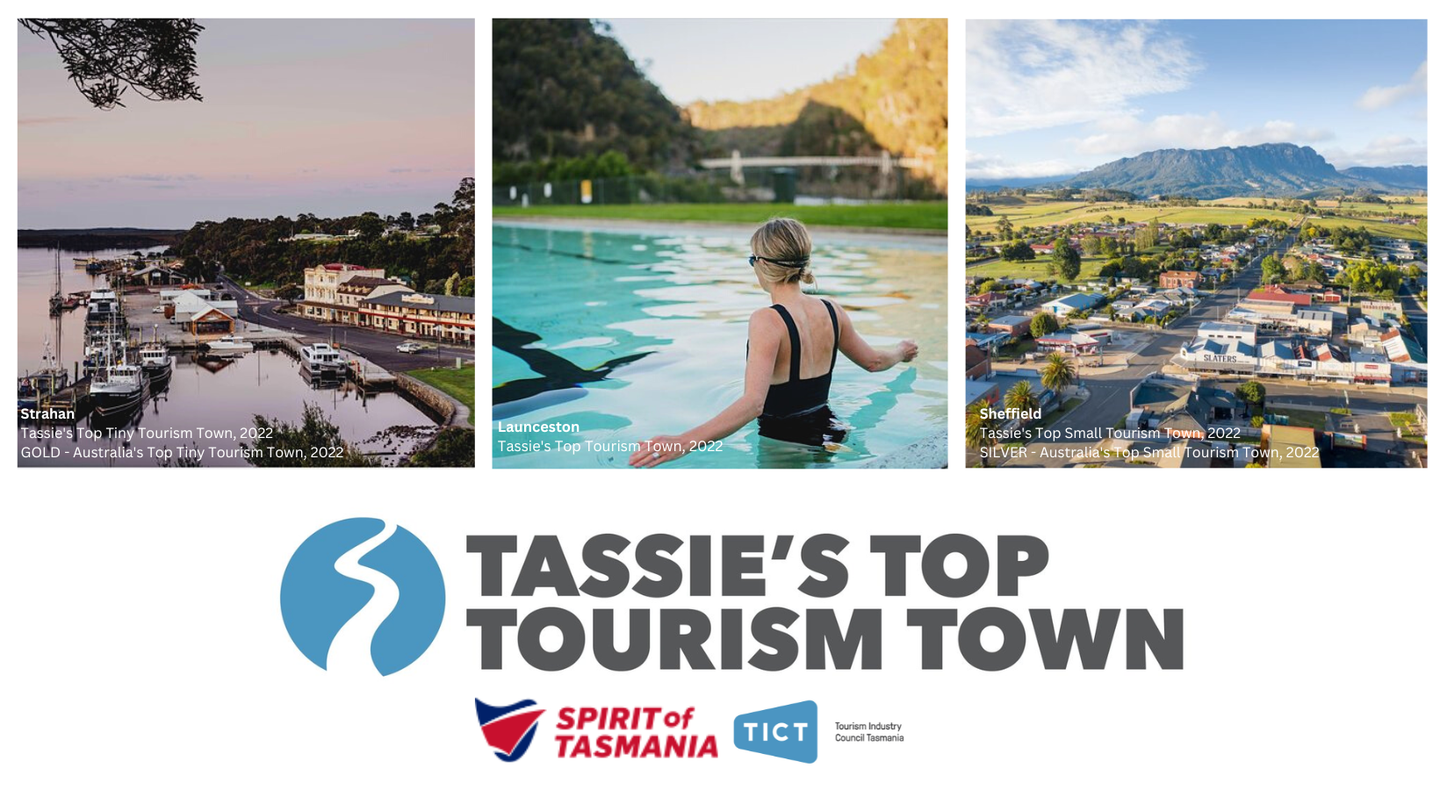 Tasmania's towns and villages are where our visitors find the real Tasmania – the characters, the quirky personalities, the history and stories, that make exploring our state so rewarding.
Our towns are also where our tourism dollars are best spent – supporting local businesses and local jobs, and keeping our regional communities vibrant for everyone.
This competition is an opportunity for Tasmanian towns of all sizes to showcase what makes their special part of Tassie such an amazing visitor destination in its own right. It is also about having your town recognised as a place where tourism operators, businesses, and the local community band together to make your town the very best destination it can be.
Nominations are open to any city or town, specifically relating to geographical towns and population centres, not Local Government Areas.
The 2023 categories and criteria remain unchanged from last year, with three categories available:
The Top Tourism Town Award for populations over 5,000
The Small Tourism Town Award for populations under 5,000, but greater than 1,500
The Tiny Tourism Town Award for populations under 1,500
(ABS census data should be referenced to determine population size.)
Entries are open to Accredited Visitor Information Centres, Local Councils, 'DAP' Groups, Local Tourism Associations, and Regional Tourism Organisations.
Each entry must feature:
A travel/tourism-focused website showcasing the town and its tourism operators, including an online booking functionality
A feature-style editorial
A short vignette
A travel itinerary
(See below for further details)
A nomination fee of $99 applies to all categories, and submissions must be completed via the Quality Tourism Framework portal.
All entries are profiled extensively by TICT and our Tassie's Top Tourism Towns major sponsors. Details on the package for entrants will be released when this year's competition opens.
The Tassie's Top Tourism Town program forms part of the national search for Australia's Top Tourism Towns - with Tasmania's three category winners to be re-judged alongside the Top Towns in every state and territory later in the year to determine Australia's Top Tourism Towns for 2023.
Key Dates 2023
Online Information Session Thursday 2 March (register here)
Nominations Close Monday 27 March
Submissions Close Friday 12 May
Consumer Voting 17 - 31 May
Winners Announced 20 June
Australian Top Tourism Towns Award Winners Announced 15 September, Canberra
Entry Requirements
Media and promotional information, a URL for your town's website featuring bookable attractions and accommodation, and an overview of the town, including its commitment to tourism and your identified target market.
A Snappy Editorial Article
A short editorial article of up to 800 words on why visitors should come to your town or city, and what they could experience during their visit. The article should be written in the style of a feature article for print or online media, and be accompanied by six high-quality images.
Here's some inspiration:
Gourmet Traveller - Launceston
Luxury Travel Mag - Madagascar
Get Lost Magazine - Bruny Island
Both a Word and PDF version of the article must be submitted. Images must be high-resolution PNG files, and free of copyright.
A 30-second to two-minute promotional video clip highlighting the key attractions and experiences in your town or city.
The finalists' videoes will feature on major social media channels, with the incentive to encourage viewers and supporters to vote for your town.
The video can be professionally produced, or simply something done creatively through a smart phone or GoPro - just make it fun and interesting, and highlight what's special about your town and why people should visit it.
For some inspiration, the best examples of the video clips are the past Top Tourism Town winners from across Australia. You can check them out here

(Please note: Do not be daunted by the video production or discouraged from entering because of this entry requirement. If you are not able to produce a video from within your local tourism network, TICT is able to put you in touch with a great Tasmanian video production team who are able and ready to assist you.)

The video must be submitted in MP4 format, wide-screen and high-definition. It must be suitable for public viewing and cannot infringe on the intellectual property, privacy, publicity, ownership or any other legal or moral rights of any third party.
An Engaging Visitor Itinerary
An itinerary, including accommodation and activities, for a defined target market (e.g. two adults and two children), for the number of days/nights as per your category requirements:
Top Tourism Town: 4 days/3 nights
Small Tourism Town: 3 days/2 nights
Tiny Tourism Town: 2 days/1 night
A couple of great examples:
Luxury Travel Magazine - Self Drive Tasmania
Intrepid Travel – Sydney to Cairns Itinerary
Or, again, look at some of the past winning entries for inspiration.
Entrants must submit a text version (additional PDF version optional) of the itinerary.
Provide the name and TripAdvisor URL for the accommodation and attractions highlighted in your entry - these will be used to determine your consumer review score.
Top Tourism Town: 5 of each
Small Tourism Town: 3 of each
Tiny Tourism Town: 2 of each
The entrant must have approval from each accommodation/attraction for the state program to create/access a ReviewPro account and obtain the GRI.
(Not sure what ReviewPro is? Don't worry TICT will explain in the information session).
Judging Process
The judging process will be overseen by the state/territory Chair of Judges. There are three components to the judging process which will determine each town's overall score:
Submission Review - a panel of three experienced judges will review the written submission (including article, video and itinerary) and score individually. These scores will be combined and averaged to determine your the submission review score. The submission review is worth 65% of the total score available.
Consumer Vote - the public will be invited to vote for their favorite town across all three categories, and the resulting consumer vote will be worth 25% of the total score available. This vote will be online and heavily promoted through social media channels.
Consumer Review - in order to gain a perspective from visitors who have visited and experienced the town, a GRI for each town's listed accommodation and activities will be obtained from ReviewPro. A GRI is an online reputation score based on review data collected from over 175 online travel agencies. The GRI from each accommodation and activity featured in the town's itinerary will be combined and averaged to determine the customer review score. The customer review is worth 10% of the total score available.
More information on each criteria, and the weighting of the submission is available below.
Why enter?
Profile your town - All entries are heavily promoted through the consumer judging process, and the social media channels of TICT, Spirit of Tasmania, and other industry partners. This competition also generates a lot of local media coverage.
Celebrate your local tourism industry - Proud of what your town is doing in tourism? This is a chance to bring your local tourism operators, community members, and local government together to share and celebrate your success and strategies.
Create great destination marketing resources - The content and information you bring together in preparing your entry, including the video, itinerary, and article, can be refined and used again in showcasing your town.
Winners Announcement Event - This year's Tassie Top Tourism Towns will be announced at a function in Parliament House, Hobart, with your State Politicians on-hand to celebrate your entry.
You might win - Each of our three category winners receive a significant marketing package from TICT's partners promoting their status as a Top Tourism Town to local and interstate visitors. (This package will be finalised over coming weeks), along with a $1,500 cash prize from TICT for you to invest in promoting your success as you like (Signage, Social Media Buys, Advertising etc).
Tasmanian Winners automatically become National Finalists - Tasmania's three category winners will automatically become finalists in the Search for Australia's Top Tourism Town, with the winners announced at a major national industry event at Parliament House, Canberra in October.
ENTRANT GUIDELINES AND CRITERIA
A guide to support towns in their submission in the Top Tourism Town Awards, including rules and entry requirements for their submission.
More information
NOMINATE YOUR TOWN
Nominations and submissions must be made via the Quality Tourism Framework online portal.
For more information or help with submitting your entry, contact kelly.luck@tict.com.au
PREVIOUS TASSIE WINNERS
Check out our amazing past winners of the Search for Tassie's Top Tourism Towns
More information