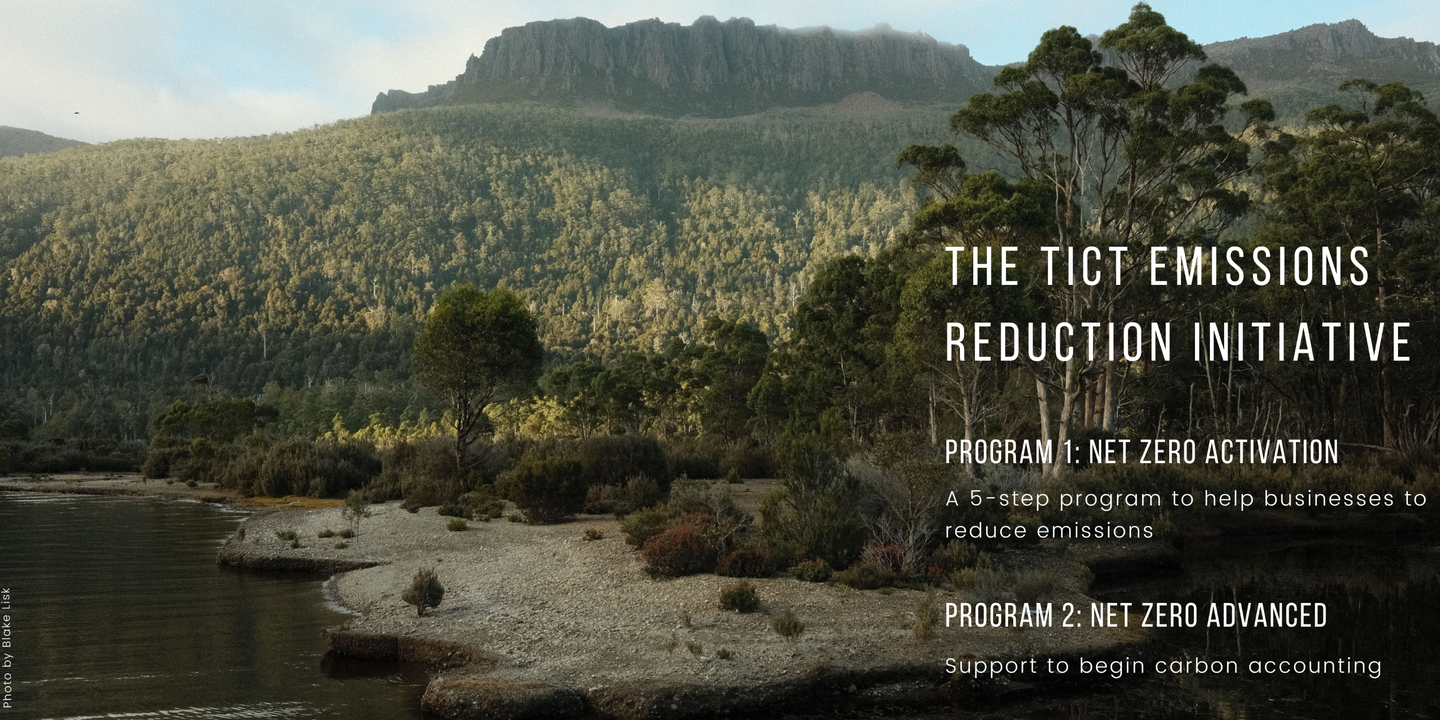 TICT Emissions Reduction Initiative
Through the support of the Tasmanian Government, the TICT is supporting tourism businesses in reducing their emissions by matching eligible tourism operators with one of two programs over 2023 and 2024.
Program 1: Net Zero Activation (for smaller operators)
A five-stage program that helps you to develop an emissions reduction plan and build habit in the key action areas to progress towards net zero.
This program will provide you with 12-months access to MyERC – a digital tool that can be used to estimate your business's carbon footprint and then guide you through the development of a customised emissions reduction plan.
Your emissions reduction plan will contain simple, achievable actions and a timeframe for reducing your business's emissions. This may include reducing business travel, for example, or installing LED lights.
Program benefits:
No carbon knowledge required
Five stage path to follow
Estimate your emissions
Develop and communicate your emissions reduction plan to guests/customers
On the ground support, Tasmania-wide
Support Tasmanian and Australian offsetting projects
List of key action categories and 40 of the most common actions plus hints, tips and helpdesk
See the summary impact of all participating TICT members
Simple processes to get your suppliers involved
Initiate some friendly climate action rivalry with other Tassie regions/groups/operators
ERC Protocol accreditation logos and stickers, with QR code that links to your emissions reduction plan
Cost to access the program (normally $158 / year) is fully covered by TICT for the first year.
For more information about what MyERC looks like, visit the ERC Australia website.

Program 2: Net Zero Advanced (for larger or more complex operators)
Guides first-time businesses through the process of carbon accounting. This program includes access to specialist software and free training for accountants/bookkeepers with no carbon accounting experience.
This program is designed to help you begin carbon accounting as a business-as-usual process. It will provide eligible businesses with a $700 contribution to cover the costs associated with engaging an accountant/bookkeeper/consultant to begin carbon accounting.
You may choose to use an existing carbon accounting specialist or train up your own finance team/bookkeeper using the free training course made available through this program. Whoever you choose, they will be given six month's free access to carbon accounting software Sumday, to help make this process efficient.
As a result of participating in this program, you will:
Understand the emissions associated with your business with the help of your accountant or bookkeeper
Have high quality, transparent carbon accounting and reporting
Be able to use the results as you like – to market your commitment, to progress towards net zero, and to meet current or future reporting requirements from your customers.
Program benefits:
Receive an audit ready emissions assessment
Train your bookkeeper/accountant in carbon accounting
Six month's access to carbon accounting software Sumday at no cost
Emissions reduction strategies tailored to your organisation
Get ahead of the curve on reporting requirements
Access carbon accountants and specialists
Access business cases, resources and tutorials for insights/strategy
TICT is offering a $700 subsidy for this program, and businesses may need to contribute an additional $100 - $5,000, depending on business size.
For more information about Sumday visit their website.