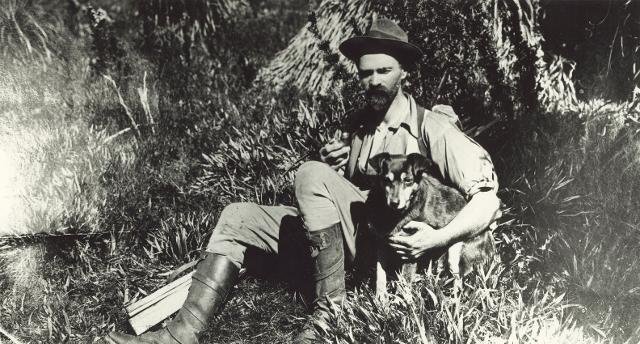 All Tasmanian Tourism Award winners are presented with 'The Weindorfer Trophy'.
Our Weindorfer trophies are custom-designed, and pay tribute to the original Tasmanian tourism pioneers and conservationists, Gustav and Kate Weindorfer.
An Austrian, Gustav arrived in Australia in 1900, settling in Melbourne, where he met and fell in love with a Tasmanian girl, Kate Cowle. Gustav and Kate bonded over their shared passion for botany.
Kate and Gustav married in Tasmania in 1906. They spent their honeymoon camping at Mt Roland in the North-West, where Gustav would have first sighted the distinct shape of Cradle Mountain.
In January 1909, Gustav trekked for the first time to Cradle Mountain. He spent two days exploring the local botany and attempting to scale the peak.
The following summer, Gustav returned to Cradle Mountain, this time with Kate, where he was quoted as saying:
"This must be a National Park for the people for all time. It is magnificent, and people must know about it and enjoy it."
A Tourism Pioneer
It was also on this trip, Kate and Gustav selected a site to construct a chalet that would allow visitors to stay and experience the valley. They purchased one hundred acres within the Valley and in March 1912 Gustav began building by hand a chalet he would call 'Waldheim', or 'home in the forest'. The chalet was built of King Billy Pine sourced from the adjacent forest.
By December of that year 'Waldheim' consisted of a humble living and dining room, along with two bedrooms. But it was ready to welcome its first guests.
Despite guests having to trek 13 km to reach Waldheim, it was an immediate success. Eventually, Gustav was able to cut a rough track into the Valley to enable a horse and cart to reach the valley entrance.
He continued to expand his chalet to accommodate more guests, and laid walking tracks throughout the valley; many of which form the basis of the current-day walks throughout Cradle Mountain, including the Dove Lake Walk and the Overland Track.
Gustav was left heartbroken in 1916 when his beloved Kate died after a long illness.
Despite being an Australian citizen, Gustav's Austrian heritage also saw him ostracised by some locals during the Great War.
Gustav sold his farm near Devonport, and settled full-time at Waldheim. He spent the remainder of his life at Cradle Mountain, providing hospitality to visiting guests during the summer months. A sociable person, he wrote of his struggle with loneliness during the winter months and cared for local wildlife for company.
A Campaigner for Conservation
Gustav never stopped campaigning for the preservation and recognition of Cradle Mountain.
In 1921, he set off on a solo sales mission around Tasmania; promoting Waldheim, Cradle Mountain, and the case for the area to be protected as a National Park.
The following year, the area from Cradle Mountain to Lake St Clair was declared a scenic reserve by the Tasmanian Government.. This area now sits at the heart of the Tasmanian Wilderness World Heritage Area.
Gustav died in 1932 at Cradle Mountain. His wish was to be buried in the Cradle Valley he so loved, which is where he remains today.
A Legacy
The story of Gustav and Kate Weindorfer continues to inspire generations of Tasmanians, who share a driving passion for the extraordinary natural values and qualities of our island state. Gustav also pioneered nature tourism in Tasmania and the value of sharing our unique environment with visitors to our State.
Gustav was a visionary and the original Tasmanian Tourism Champion.
The Weindorfer's enduring legacy to our industry and the State is encapsulated in the Tasmanian Tourism Awards program, recognising the passion, innovation and hard work of our leading tourism operators.
The category 'New Tourism Business' also bears the prestige of Gustav's name in perpetuity, with the winner of each year presented with 'Gustav's Award for Best New Tourism Business'. Continuing a legacy of innovation and creativity in tourism that began with Gustav's Waldheim.
The Miles Weindorfer Trophy 2021 -
In 2020, Arts Tasmania ran a public art competition calling for a designs from Tasmanian artists for a new Weindofer Trophy.
The brief was to reimagine the design of Tom Samek, and the inspiration of the Weinfdofer's and Waldheim.
The successful design was by Taroona-based artist, Alex Miles, with her striking and contemporary statement piece using Tasmanian timber and stone.
Click below to learn more about Alex's design.
The Miles Weindorfer Trophy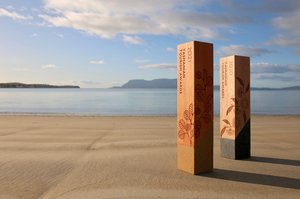 The Samek Weindforfer Trophy 2014 - 2020
The original Weindorfer was designed and handmade by celebrated Tasmanian artist, Tom Samek.
Tom took the inspiration of Waldheim for his design, and the native Tasmanian timbers Gustav used to construct his chalet.
Over 6 years producing the trophies, Tom evolved his design each year, meaning every Tasmanian Tourism Award received a unique piece of Tasmanian art.
The Samek Weindorfer Trophy