Accommodation Star Ratings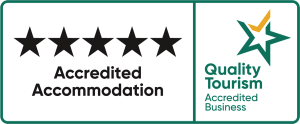 From July 2017 Tourism Industry Council Tasmania is responsible for Star Ratings in Tasmania.
Star Ratings are an internationally recognised symbol for quality accommodation standards. They are used in more than 70 countries worldwide and reflect the cleanliness, quality and condition of guest facilities.
A Star Rating is determined by more than 200 criteria that have been ranked by Australian travellers according to what's important to them.
Star Ratings are a mark of quality: if a property has a 1 Star Rating, you can be assured that the property has met the standards expected of a quality 1 Star property; if a property has a 5 Star Rating, it has met the standards expected of a quality 5 Star property.
The 'star' symbols are a licensed trademark and can only be used by properties that have been licensed to use them.
Star Ratings are your safeguard against 'self-ratings' - properties who have assessed their own quality standards.
Star Ratings are awarded to six distinct accommodation categories:
Hotels
Motels
Serviced Apartments
Hosted Accommodation
Caravan-Holiday Parks
Self Catering Properties
Star Rated Properties are assessed every three years against a comprehensive criteria. TICT undertakes Star Rating Assessments in Tasmania, where possible, in conjunction with tourism accreditation site visits. This single visit reduces the costs for the operators and the program.

Fees:
Accredited Accommodation Operators can become Star Rated for a small annual fee paid on top of their annual accreditation fee. This Star Rating Fee is based on the number of rooms within the property:
Star Rating Fees at January 1, 2020 - Accommodation Hotels and Motels
1 - 5 Rooms $140
6 - 25 Rooms $205
26 - 100 Rooms $260
101 + Rooms $395
Star Rating Fees at January 1, 2020 - Cabin, Caravans and Camp Grounds:
Camp Sites Only $195
1 - 10 Cabins $215
11 - 25 Cabins $255
26 + Cabins $350
Accommodation Operators who wish to become Star Rated and are not currently accredited, must register for both programs.
For more information and to register for Star Ratings:
Redirect to the Star Ratings Website
More information