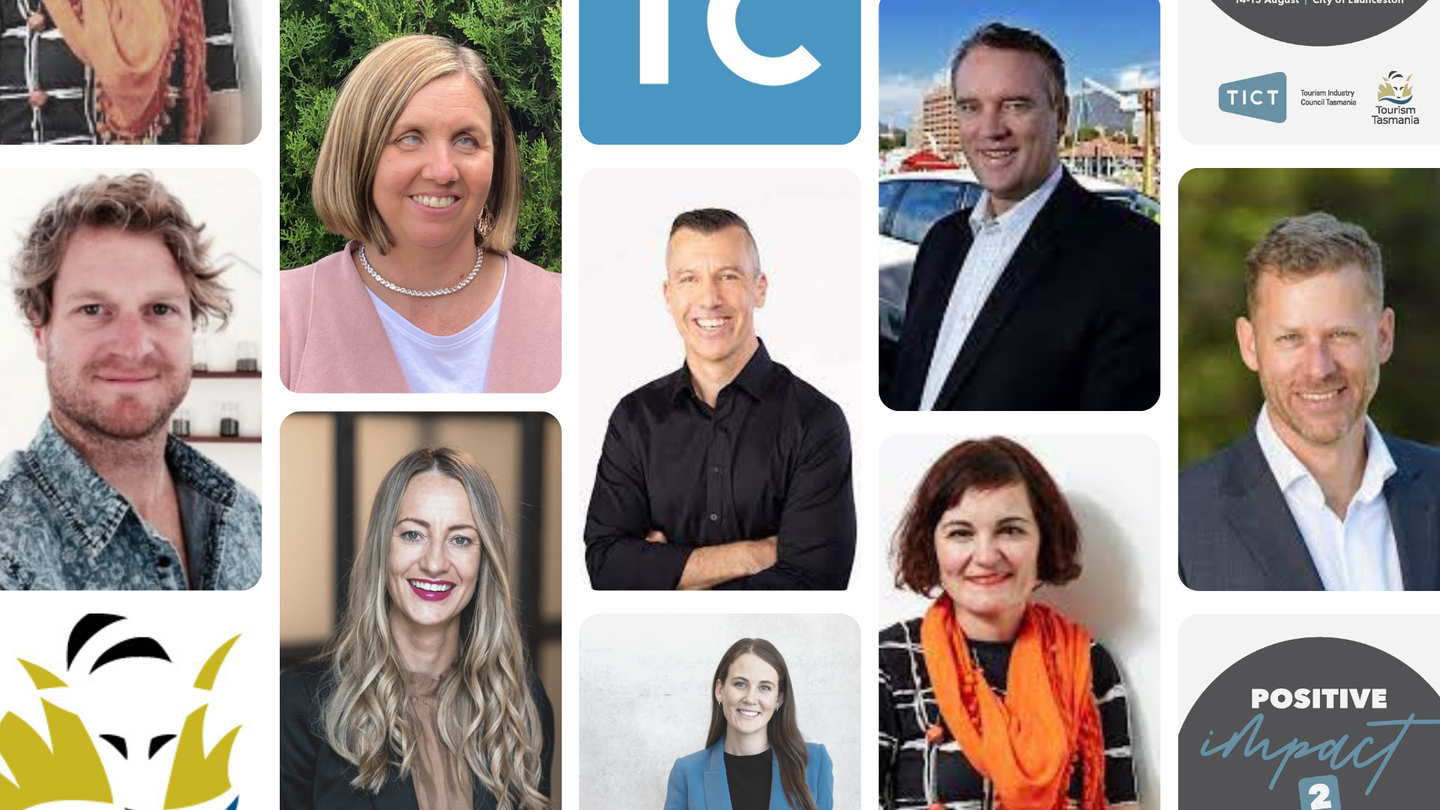 Business Sessions Day: Tuesday, 15 August 2023
Country Club, Launceston
(Click on links for further details on the speaker and session.)
Registrations & Coffee from 8:30am
Coffee cart supplied with thanks to Cumulus Studio
Beginning 9:00am Sharp - The New T21
Welcome to Country
Clyde Mansell - wukalina Walk


Welcome from TICT
Daniel Leesong - Chair, Tourism Industry Council Tasmania
Official Opening
Grant O'Brien - Chair, Tourism Tasmania (with a message from the Hon. Jeremy Rockliff MP, Premier & Minister for Tourism)
2030 Visitor Economy Strategy Launch
Sarah Clark - CEO, Tourism Tasmania, with Amy Hills - CEO, Tourism Industry Council Tasmania, + an industry panel.
Tourism Tasmania Update
Sarah Clark - CEO, Tourism Tasmania
10:30am - 11:00am - Steadfast Taswide Morning Tea
Coffee and recovery snacks (the Berocca jugs will be back... And Coffee. Lots of Coffee)
With thanks to Steadfast Taswide Insurance Brokers - official insurance partners of the Tasmanian tourism industry.


11:00am - 12:30pm - Our Positive Impact Agenda from All Angles

Networking Lunch:12:30 - 1:30pm
Country Club's Mega Networking Lunch. Feast, Talk and Build Connections. Simple, really.
Proudly Sponsored by Federal Group.
1:30pm - 3:00pm - Your Breakouts with Take Outs:
Choose your own adventure from one of three concurrent breakouts covering some of the most pressing priorities, opportunities, and challenges for tourism operators and the industry. You'll leave each session informed, energised and engaged on the key priorities for the industry over the next couple of years.
Session 1 (1:30pm - 2:15pm)

Session 2 (2:15pm - 3:00pm)


3:00pm - 3:30pm - The Tasmanian Vacations Afternoon Tea
Think sugar-hits, sugar-alternative hits, and other sustenance to get through the final big, last, blast!
With thanks to Tasmanian Vacations - a TICT Partner.

3:30pm - 5:00pm - Insights and Inspiration
We really want your company to the very end. So, our trick is to put must-see speakers on in the afternoon. (Sorry, but not sorry!)
There is something for everyone. The latest marketing intel and strategy, an amazing story on entrepreneurialism, before the inspiring and energising story of a First Nations woman who used her 15 minutes of fame as the basis to build a true Positive Impact business.
Ready To Register?
Registrations for the 2023 Tasmanian Tourism Conference are Now Open!
Click here for details
Or click here to start registering.