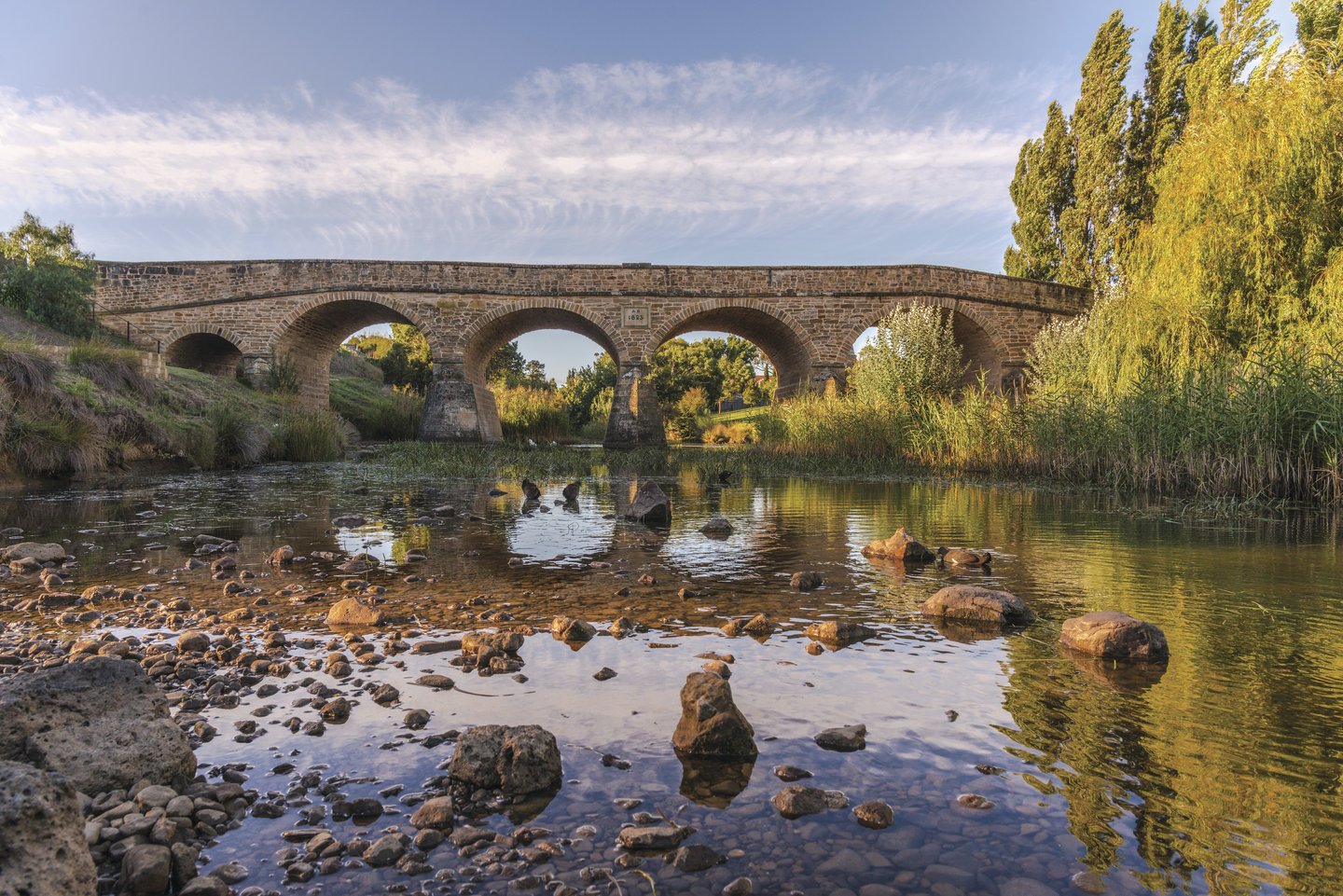 Go Beyond The Bridge: The People, The Produce, The Places
It goes without saying that Richmond is famous for its historic landmark, Australia's oldest bridge. But locals will tell you, and visitors quickly discover, that there is so much more to see and do when you go beyond the bridge.
Situated in the heart of the beautiful Coal River Valley, the picturesque town of Richmond is just a short 25-minute drive from Hobart or 15 minutes from Hobart's International Airport. It is perfectly positioned as a weekend escape, the start or finish of your Tassie holiday or as a base to explore southern Tasmania.
Whether you are visiting as a couple, family or on your own, Richmond is a must-see destination. As you start to explore, you can't help but feel a world away. For a place that creates the feeling that you have stepped back in time, Richmond and the surrounding Coal River Valley certainly has its fair share to discover, that is for sure!
Richmond's rich convict history will be celebrated with the bicentennial of the town's settlement in 2024. Any day of the week you can enjoy the streets lined with 19th century Georgian buildings and cottages, all beautifully restored. Explore the beautiful art galleries, antique stores and speciality boutiques, or delve into the town's dark past and visit the beautifully preserved Richmond Gaol.
When hunger strikes you are in luck as Richmond is a foodie's dream! With a variety of options ranging from award-winning restaurants, well-loved cafes, a traditional pub meal or perhaps a famous scallop pie from the local bakery. For the sweet tooth, you cannot go past the local ice creamery or stop in at the famous traditional lolly shop.
Originally the surrounding hills and fields once served as one of Australia's first food bowls. Today, the Coal River Valley is home to a trail of some of Tasmania's finest vineyards and cellar doors, and arguably some of the best Sparkling, Pinot Noir and whisky to be found anywhere in the world – yes, even rivalling France and Scotland!
At every turn you will find orchards and farms with an abundance of delicious, seasonal harvests. The valley's friendly, local producers offer award-winning cheeses, chocolates, and oysters that really are to die for. You could spend days exploring this lush food and wine destination and still not see everything it has to offer.
Those looking for a sense of adventure, will find there are unique and curious attractions that offer something for everyone. Perhaps take a visit to the local zoo and get up close to some wildlife, enjoy a round or two of golf at the local course or take a scenic flight over the Coal River Valley to view the town from a different perspective.
When staying overnight, everyone's level of comfort is catered for. From restored historic cottages, country house retreats, caravan sites and cabins to an elegant manor hotel.
Chatting with the locals as you explore their beautiful town, they will tell you with pride, Richmond is a wonderful place to live. You will no doubt agree and become an advocate yourself, as this world class destination has so much to offer.
Go beyond the bridge and discover the hidden gems that are the people, produce and places of the abundant Coal River Valley Tasmania. Richmond, a regional hub only 25 minutes from Hobart, connects you with some of the Coal River Valley's best food and beverages; think cheese and chocolate producers, oysters fresh from the sea, hatted restaurants with selfie-worthy views, award winning wineries, pick-your-own orchards and world-best distilleries. Add to that local artisans and antiques, boutique accommodation with all the trimmings, a service culture that makes you feel like a local, and a community that is as passionate about its diversity as it is for its rich convict history! Oh, and the oysters, cheese and wine – these are so divine, they deserve their own line!
DAY ONE: The Riches of Richmond
MUST SEE
Richmond Bridge – Australia's oldest bridge
St Luke's Church
Richmond Gaol & Historic Site
WHAT YOU WILL LOVE
Road-side produce for sale – do not miss the cute little shed of Frankham Figs!
Littlewood Berry Farm
Richmond celebrates its 200th year in 2024. Be sure to book ahead and be part of the big celebrations
Your enrichment begins soon after you realise how little time has passed since you stepped off the plane at Hobart International Airport and into your rental car. Ensure you grab a copy of the Coal River Valley visitor guide and map! Within minutes, you will be on Richmond Road and entering the plentiful Coal River Wine Region.
On your right, you will notice the striking image of the Mt Pleasant Radio Telescope, home to the Grote Reber Museum. Break the cellar door seal with a visit to Frogmore Creek Vineyard and Restaurant. Enjoy a tasting from their splendid range of cool-climate wine (be sure to try the Fumé Blanc, Pinot Noir and Iced Riesling)! Ask the staff for access to the (almost) hidden mezzanine art gallery… It will floor you! If time permits, ask for a table for lunch in the restaurant, with views across the vineyard to the telescope and surrounding valley. LEAVE ROOM FOR DESSERT!
Back on the road, but for only the shortest of distances, make sure you turn off to visit Coal River Farm. Dependent upon the season, explore the pick-your-own orchard, or head inside to sample delicious cheese and watch chocolate treats being made in front of you. Before gluttony sets in, make your way to the village of Richmond.
Whilst awaiting check-in for your accommodation, immerse yourself in the rich history of 1820's Hobart at Old Hobart Town Model Village. This unique replica, offers a glimpse into life in early Hobart and its harsh convict past. Be sure to take note of buildings that still stand today to seek out on your trip to Hobart.
Wander the streets of Richmond Village and explore the elegant Georgian architecture, with laneways that lead to some fascinating people, proudly sharing the history of the valley and making and selling extraordinary things. Take a trip down memory lane at Sweets and Treats, a Richmond institution for over 30 years. Bursting with all the delights to satisfy the sweet tooth, the shop includes memories from your childhood – and your grandparents, too!
Arrive at Prospect House Private Hotel to settle in for the night. The grand entrance as you drive through the front gates and up towards the lovingly restored 1830's manor, really sets the scene for the indulgence that awaits. After familiarising yourself with the stunning building and grounds, stroll across to Pooley Wines for your complimentary tasting. Learn about the rich family history of this local favourite and sample some of their award-winning wines.
Back at Prospect House, enjoy a set menu for dinner showcasing some of the freshest seasonal produce sourced from the surrounding valley and onsite gardens.
DAY TWO: Live Like a Local
MUST SEE
Lafayette on Bridge – yes, Christmas comes more than once a year in Richmond!
Explore the curious at the Pooseum…ask about THAT beer on display!
Richmond Tasting House
WHAT YOU WILL LOVE
The stunning streetscape and surprises around every corner
The local stories and family connections
Interpretive street signage offering a glimpse into early Richmond
Richmond is home to Australia's oldest bridge. Constructed in 1823 by convict labour, it is still in use today and provides access to the neighbouring township of Sorell, the East Coast and Port Arthur. Start the day with a coffee from Ashmore on Bridge Street and make your way through the village green and down to the banks of the Coal River. Position yourself on the water's edge platform for the perfect selfie in front of the imposing bridge behind.
Back on the road, head out of Richmond towards Campania, until you arrive at Killara Distillery. Bill Lark, known as the "godfather" of whisky in Tasmania, was instrumental in reigniting distilling in Tasmania. The establishment of Lark Distillery in 1992 saw Lark's original cellar door open in what is now Sweets and Treats. This was the first in Tasmania in over 150 years! Bill has now passed his knowledge and passion for the industry onto his daughter Kristy, who owns and operates Killara. As you enjoy a tasting, you appreciate the proximity to quality produce; botanicals for gin, barley for whisky and liquors featuring cherries from the orchard up the road.
Back in Richmond for lunch, head to local favourite Wattlebanks Café & Providore. Relax with lunch in the picturesque gardens and watch the world go by. Be sure to browse their providore which is jampacked with bespoke local produce from the Coal River Valley and across Tasmania.
Treat yourself to some retail therapy as you explore the specialty boutiques. Do not miss Walker and Walker, offering an eclectic mix of old and new. Be guided by the alluring scents drifting from Richmond botanicals. Inside you will find handmade products championing local ingredients, beautifully displayed within their 180-year-old horse stables that have been lovingly restored to showcase the original cobblestones.
Join the locals for a yarn over dinner at the Richmond Arms Hotel. Standing proudly in the heart of Richmond, this grand old building invites you in for a uniquely Richmond experience. Think a hearty pub meal, gossip and insights from the locals, and if you're lucky, dance your socks off to local talent in the popular beer garden!
DAY THREE: Above & Beyond
MUST SEE
Be sure to visit Puddleduck Vineyard for a selfie with Morrison, the giant vine-woven duck!
Visit Candy Abalone on site at Barilla Bay
Run out of time? Mark down a new itinerary for your next visit on your visitor guide & map!
WHAT YOU WILL LOVE
Generations of families living and working in the valley
The "Everything Ducky Duck Shop" at Puddleduck
A bird's eye view of the Coal River Valley and the contrast to Hobart city just over the hill
For your final day, rise early for breakfast so you can get outdoors and enjoy the spectacular sight of first light over the valley.
Make your way to Zoo Doo Zoo, for your pre-booked experience feeding the native Tasmanian Devils. Spend some time watching the playful antics of some of the 400 native and exotic animals on display. Before you depart, be sure to visit the gift shop and collect your photos of your brave animal encounter!
Arrive at Puddleduck vineyard for your pre-booked winery tour. This behind-the-scenes tour provides insight into the incredible effort behind turning grapes into your favourite bottled wine. Grab a spot by the lake to enjoy your wine tasting paddle; included in the tour.
To wrap up your long weekend in style, head to Barilla Bay for a feast of freshly shucked oysters direct from the bay in front of you. After washing them down with your new favourite sparkling wine from Tasmania, make your way down by the water to hop aboard your rock star transport to venture wherever you like – Mona? Port Arthur? Maria Island? The choice is yours! Your friendly pilot will even ensure you are back at Hobart Airport in time for your flight home.
Good things mustn't always come to an end – start planning your next escape to visit Richmond and the Coal River Valley with your closest of mates!