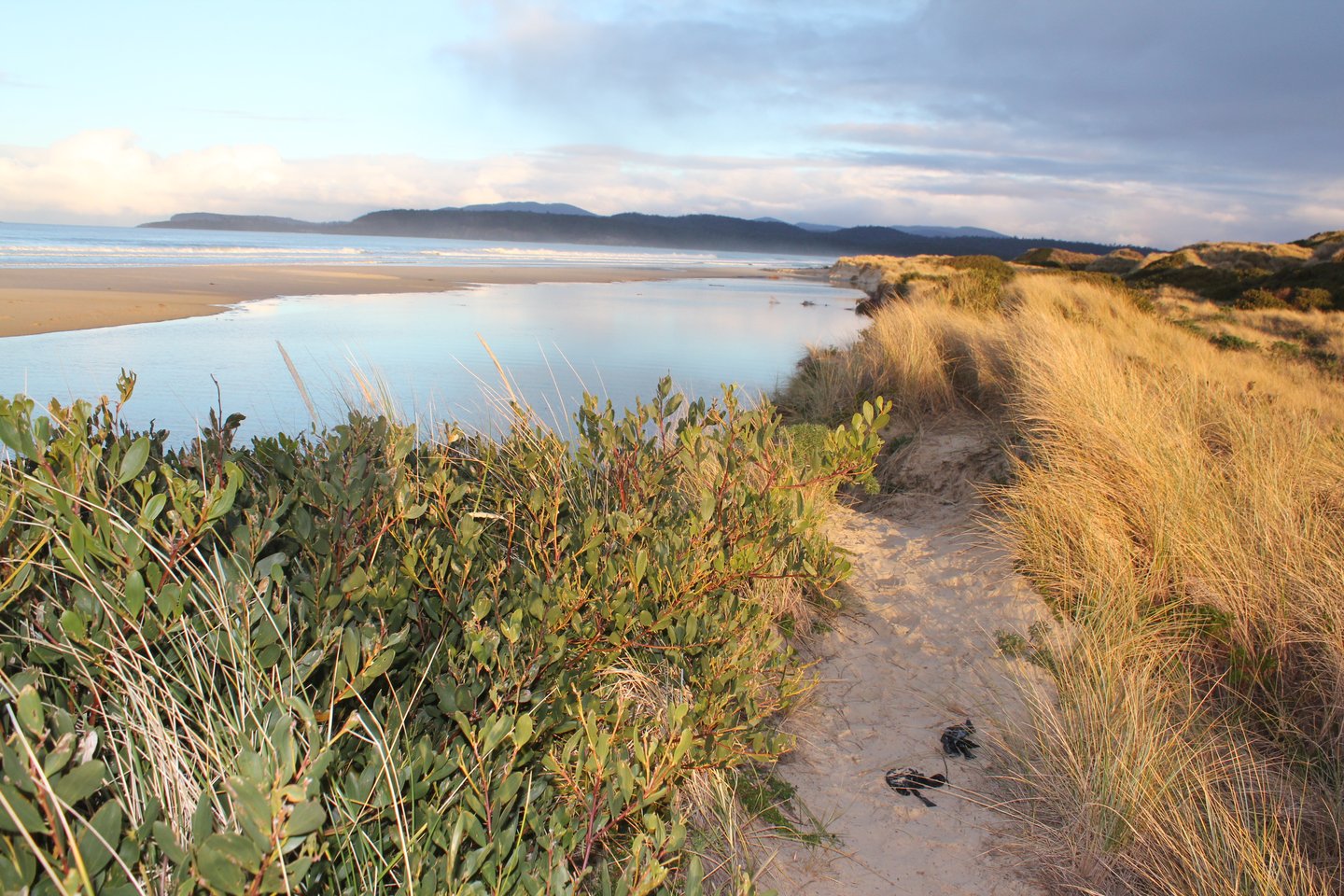 It is easy to drive on past the tiny coastal town of Bream Creek. If you head along the Arthur Highway from Sorell and blink at Copping, you'll have missed the turnoff to this idyllic pocket of Tasmania. And when you do find it, you'll also discover that there is so much more to Bream Creek than its breathtaking first impressions.
If you have a four-wheel drive, it's worth going the long way around through Kellevie to the Wielangta Forest Road, where you can detour for the view over Hellfire Bluff and a walk in a relic rainforest. Turn back and onto Bream Creek Road, where you'll meander a few kilometres from forest to foothills, farmland to magnificent ocean.
On Marion Bay Beach, you are likely to find yourself alone to contemplate life with the shorebirds and the crashing waves. Walk the perfect stretch of white sand or take to the water for a dip or a kite surf.
If you're visiting on the first Sunday of the month, the Bream Creek Farmer's Market sees a meeting of close community, creative minds and fine produce. Locally made breads and pastries, cheese, meat, award winning Bream Creek Vineyard Wine, community garden vegetables . . . how food should be. The market is held at the home of the iconic Bream Creek Show, the social event of the year and a beloved day out for families all over Tasmania.
A stone's throw from the showgrounds is Cape Bernier Vineyard, its cellar door is open for wine tastings and cheeses produced by their neighbours at Leap Farm and Bream Creek Dairy. Farm and vineyard tours are also available to pre-book with Leap Farm/Tongola and Bream Creek Vineyard Wines. Just down the road Hellfire Bluff Distillery is open for tastings too and Blue Lagoon Oysters sell fresh oysters direct from their farmgate. You can also take the opportunity to book an intimate dining experience at destination restaurant, Van Bone.
A wide range of accommodation options are on hand in Bream Creek, from caravan sites and Airbnb rooms to the rejuvenating comforts of Beachbreaks and the high-end luxury at Marion Bay House. You can relax and indulge surrounded by green pasture, fresh air, and clean, deserted beaches. You're within half an hour of the Tasman Peninsula — convict country, sea cliffs and hiking heaven and an hour from MONA, Richmond and Hobart. There is no better place from which to base your Tasmanian explorations.
Bream Creek was discovered by Abel Tasman in 1642. He spent a few days here, hoisted his flag and left. Records of his voyage state that he saw signs of life. At a mere thirty-minute drive from Hobart Airport, it's easy to discover Bream Creek again. The signs of life — pure, vibrant, sustainable, beautiful — are everywhere.
Bream Creek – how life should be.
Relax and indulge surrounded by green pasture, fresh air and clean, deserted beaches
Bream Creek is a little known idyllic township. Perfectly situated in the heart of the east coast of Tasmania, Tasman Peninsula and Hobart regions, there is no better place from which to base your explorations. And there is far more to Bream Creek than first meets the eye.
This itinerary is suggested for a couple who appreciate fresh air, deserted beaches and quality Tasmanian food and wine
Day 1
Bream Creek is a mere 30-minute drive from Hobart airport. The longer drive from Devonport to Bream Creek can be pleasantly broken up with a few stops along the way — be sure to take Mud Walls Road (B31) into Richmond, this scenic short cut takes your right into the Coal River Valley and on to Sorell.
Sorell is the spot to stock up on provisions. Leaving Sorell, you will soon pass the home of Nonesuch Distillery and a further 15 minutes along the highway you will reach the Copping Service Station, which marks the turn-off onto Marion Bay Road. Don't blink here, because it's just a slight turn to the left and easy to miss! In a minute or two, be ready to have your breath taken away by the stunning vistas of Bream Creek.
Check into your accommodation at your leisure before taking a reconnoiter around the back roads and down to the mostly deserted Marion Bay Beach. From there, another five minutes along Bay Road will take you to the cellar door and tasting room of Hellfire Bluff Distillery as well as freshest Blue Lagoon Oysters.
Day 2
Begin your day with a morning walk on Marion Bay Beach. If it's the first Sunday of the month, head to the Bream Creek Farmer's Market, which offers a wide range of fresh and delicious local produce directly from the producers. Listen to live music, drink great coffee and eat a still-warm pastry as you stock up on picnic and dining provisions such as sourdough bread, cheese, meats, salad veg and award- winning Bream Creek Vineyard Wines.
Tours are available to pre-book at Leap Farm/ Tongola and Bream Creek Vineyard. These personal experiences will create a lasting memory and deeper appreciation of the terroir that helps to create these products. Cape Bernier Vineyard, on Bream Creek Road has an open cellar door that stocks their own wine, olive and pork products, and both Bream Creek Dairy and Tongola cheeses too.
There is a 7km loop walk around Marion Bay, Bream Creek and Burnt Hill Roads, taking you past the Bream Creek Dairy and its herd of Friesian cattle. Then on past the Bream Creek Community Market Garden and its roadside stall and back to where you began. We could go on about the stunning coastal and rural views, but you will see they speak for themselves.
Day 3
Amble down to Phoenix Farm for a hearty farm breakfast, walk through their huge kitchen garden and take some inspiration home. A stone's throw from Phoenix Farm is Potter's Croft, where pottery is made, displayed and sold. In Dunalley, the jetty, slipyard, cannery and a monument to Abel Tasman are all worth a look before heading over the bridge to the Bangor Vineyard Shed. Beautifully built to overlook Blackman Bay and the vineyard, this cellar door, restaurant and providore is a popular favourite. Enjoy a gorgeous rustic tasting experience nestled directly on one of Tasmania's most breathtaking shorelines at Dunalley Bay Distillery. Consider a leisurely afternoon, allowing time to relax and simply be. Walk the beach, where serenity and birdlife abound, or sit with the view and read. Take the opportunity to book an intimate dining experience at destination restaurant Van Bone.
Day 4
To make the most of the Peninsula, get an early start. Fifteen minutes past Dunalley on the Arthur Highway, take a left onto Pirates Bay Drive and enjoy a coffee at Cubed Espresso with a world class view. Next, pop down the path to stretch your legs and see the Tessellated Pavement. Rejoin the highway briefly before turning left again onto Blowhole Road. Blowhole Road not only delivers on its promise with a spectacular ocean blowhole, but also takes you to several other scenic lookouts such as the Devils Kitchen, Tasman Arch and Waterfall Bay Lookout. If you prefer a little more adventure, try a boat trip heading out of Eaglehawk Neck to view the sea cliffs from a unique and breathtaking perspective.
The next town, Taranna, is home to UNZOO, where you can see a Tasmanian devil and a menagerie of other Tasmanian endemic fauna and flora. Across the road from UNZOO is Federation Chocolate, a working chocolate factory that welcomes visitors daily.
Port Arthur's famed historic site speaks for itself, and may deserve its own full day if it appeals to you. If not, 1830 Restaurant and Bar within the visitor centre provides a fine dining lunch (or dinner) option with sweeping views of this world heritage site. As you leave Port Arthur, take a detour down Safety Cove Road and work off your lunch venturing down the stairs to view the truly remarkable Remarkable Caves.
Next stop, another distillery — Nubeena Road will take you all the way through Nubeena and back to Taranna, but if you have the time and inclination, a quick detour up Radnor Road (on your left again) to visit McHenry Distillery and cellar door will not disappoint.
Bream Creek
How Life Should Be
Relax and indulge surrounded by green pasture, fresh air and clean, deserted beaches
For enquiries find us on facebook
@breamcreektasmania OR breamcreektasmania@gmail.com
45 minutes from Hobart, 30 minutes from HBA airport, 20 minutes from Sorell
10 minutes to Dunalley, 30 minutes to Eaglehawk Neck, 45 minutes to Port Arthur
Accommodation options include Beachbreaks, Marion Bay House, Pelicans Rest, Rochford Hall, Airbnb
Camping (waste points in Sorell, Port Arthur and Nubeena).
@beachbreakstasmania @capebernier @breamcreekdairy @breamcreekfarmersmarket @breamcreekwines @hellfirebluffdistillery @leapfarm @tongolacheese