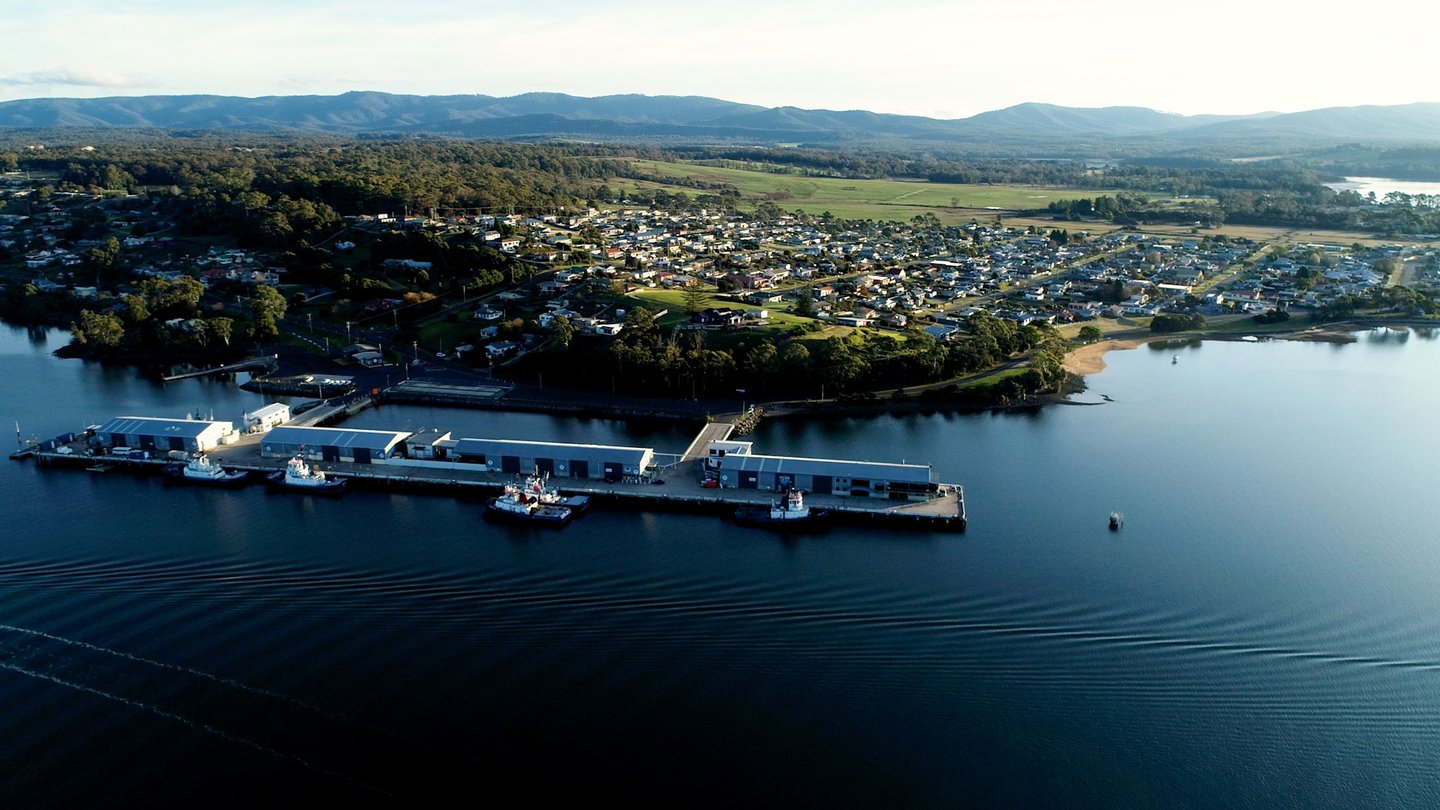 I stepped off the plane and couldn't really discern a valley or river. Launceston city in the Tamar Valley was only 15 minutes away, and it would take me another 45 to get to Beauty Point.
On the way, one of Tasmania's sixty great short walks, Tamar Island Wetlands, would build a hunger for lunch and I was captivated by the array of birds, reptiles and cultural values of the ecosystem. It felt other worldy as I walked between rows of head-high native grasses onto islands and across lagoons, out to the river.
A quick search told me Timbre was going to be my lunch stop and I over indulged in a $55.00 small plate menu, which prides itself on involving the community in its ingredients and conveniently sites itself in the middle of Velo vineyard.
My destination was to be Wingtons Glamping for the night and with the autumn sun reclining quickly, I decided to check in early and float in the supremely deep bath before dining by the fire and contemplating the thread count in my Antarctic inspired robe. Graham, one of the hosts, had kindly offered to source dinner and a simple gourmet platter he picked up from Holm Oak was enough after lunch to have me dive into the Hungarian goose down duvet with a hot water bottle and watch the flames flicker in the macro wood heater.
The soft sound of water gliding along the estuary woke me early, and watching the carpet of fog dance along the surface, I opted against a pre-breakfast kayak and instead took a short drive to West Head and watched the sun rise over Bass Strait from the lookout. Insta-feed satiated, I cruised back into Beauty Point and sought out a fish bowl of coffee at the River Café. Sitting in the window I took the locals recommendation of a BLT&G on sour dough as I gazed on the river.
The very large Seahorse World and Platypus House signs emblazoned across the entire length of Inspection Head Wharf drew me in for their morning tours. Holding a seahorse in my hand made me both nervous and delighted – having Edwina the Echidna sitting on my shoes while she slurped mealworms for morning tea had me overcome.
After I'd laid on the grass at Cabbage Tree Hill wine, imbibing rose' and listening to some dulcet tenor, I again took advice on foraging at Yorktown Organics, Winterbrook and Nigel's Gourmet, which wasn't really foraging, but they also stock many other local producers. I pulled in to Domescapes for the evening and used their pizza oven to cook, while Doug and Nellie (the vineyard dog), a few visitors and I shared my spoils with their pizza and the view down over the vines.
Next day, a self-guided tour through the ten-thousand-artefact Beaconsfield Mine and Heritage Centre and I couldn't avoid trying the Happy Place Farmhouse Ale right next door at Miners Gold – the place for astonishingly good craft beer – and, well, I'm on holiday so now I'm going to bathe in a waterfall at Holwell Gorge and then retreat to my cottage idyll back in Beauty Point and watch the yachts sail by.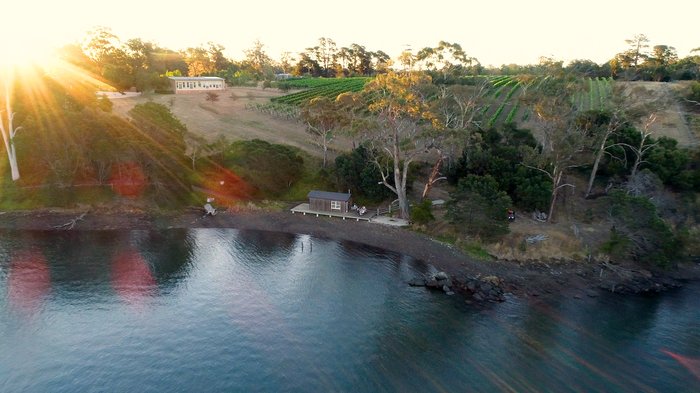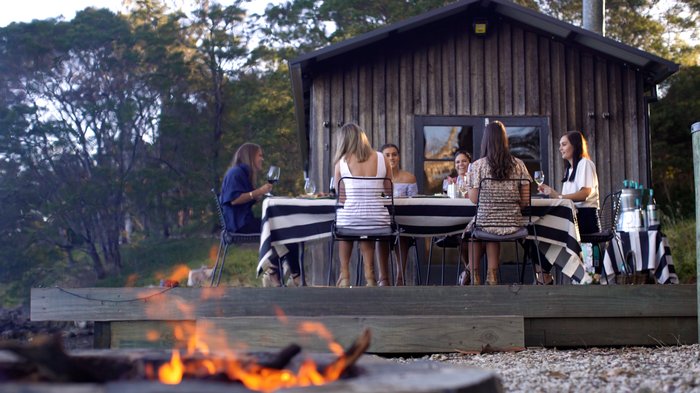 If you've never been to Beauty Point, its claim to fame used to be the venue for the start of the Three Peaks Yacht Race and a cow called 'Beauty'. It sits between the vineyards and northern forage food bowl of the Tamar Valley and Bass Strait.
Food, wine and nature are its fortes, so let's explore these themes over four days and three nights in northern Tasmania.
Day one, and chasing food will see you heading just south of Beauty Point and include the simplistic pleasure of a cheese toastie – embellished with a hint of Tamar Valley Truffle - at the off-grid Moores Hill and why not indulge in a Sekt Sparkling Riesling. While there, Fiona and Julian will advise you on the terroir of the truffle, the beautiful family story of Yorktown Organics, the edible and therapeutic qualities of the local Lavender House and Lentara Grove Olives often featuring on their menu.
You'd find it hard to go past a Tamar Valley Pastured Egg, an invite-only to Petuna salmon farm or Langdale Farms organic pork. Add to that list honey, apples, berries, hazelnuts and a myriad of roadside veggie stalls and harvest markets. Outlets include Tamar Artisan Smallgoods, Nigel's Gourmet on Tamar, or you'll most certainly find said produce on the menu at The Cabin, Timbre, River Café, Rosevears Hotel, Moon Lily or Hubert and Dan at Tamar Ridge. If you get your timing on point, you may even encounter a returning fishing vessel selling their live catch from the wharf. Do what's becoming more on trend and ask a vineyard if you can use their BBQ, pizza oven or outdoor kitchen to prepare your own lunch.
Day two and you'll discover pleasure in combining the aforementioned food with wine at one of more than two dozen cellar doors in close proximity. The closest is Cabbage Tree Hill, a mere 5 minutes away from Beauty Point, and offers the very best in cool climate pinot, chardonnay, Riesling, cabernet and sparkling – the latter so much so that it's the reason the French took away the use of Champagne; it's that good in northern Tasmania.
Vineyards have morphed in the greater Beauty Point region in the past decade and hyper-premium venues like Waterton Hall, Holm Oak, Goaty Hill, Marions, Glendale, Loira and Winterbrook in the immediate vicinity, will compliment with live music, food events, host your wedding, art installations, niche food products and quirky features like snail farms and celebrity pigs.
As an aside to wine, cider and gin can be found at Brady's Lookout Cider and Turner Stillhouse respectively, with an honourable mention to Tamar Valley Wine Centre for stocking more than thirty vineyards in their cellar.
On day three it's the natural aspects to take in, and it would be a dereliction to miss the immediate animal attractions of Seahorse World and Platypus House – the former a breeding and seahorse farm and the latter a chance to see platypus and echidna on very close terms.
The Tamar River is a natural wonder in itself flowing past Beauty Point and a further 70 kilometres inland with pockets of rainforest at Notley Gorge – home to gigantic tree ferns - and Holwell Gorge with its staggered waterfalls. Brady's Lookout provides a sweeping view north and south along the estuary and Tamar Island rounds out an easily accessed bird and wildlife sanctuary in Riverside.
I'd encourage a quick visit to Narawntapu National Park and West Head before departure on day four, which will give you a grand send-off; 90 metres above the sea cliffs and views almost to the farthest tip of north-west Tasmania. If you have the luxury of a late flight or evening sailing, I'd highly recommend a full combination of all of the above.
Choose a vineyard, look for any food events they may have – many offer oysters and lobster at Easter for example or celebrate their vintage with a local producer – find an event that suits, the Tamar Valley Writers Festival or Farmgate Festival attract writers and chefs from around the globe.
Depending on the time of year, you could entertain a wholly authentic local cricket match, a sailing event at either of the local yacht clubs, jump on board a visiting naval vessel or cruise ship, or look for a music event that suits your taste and match the scenery – river, vineyard, mountains or forest and create an unforgettable final day.