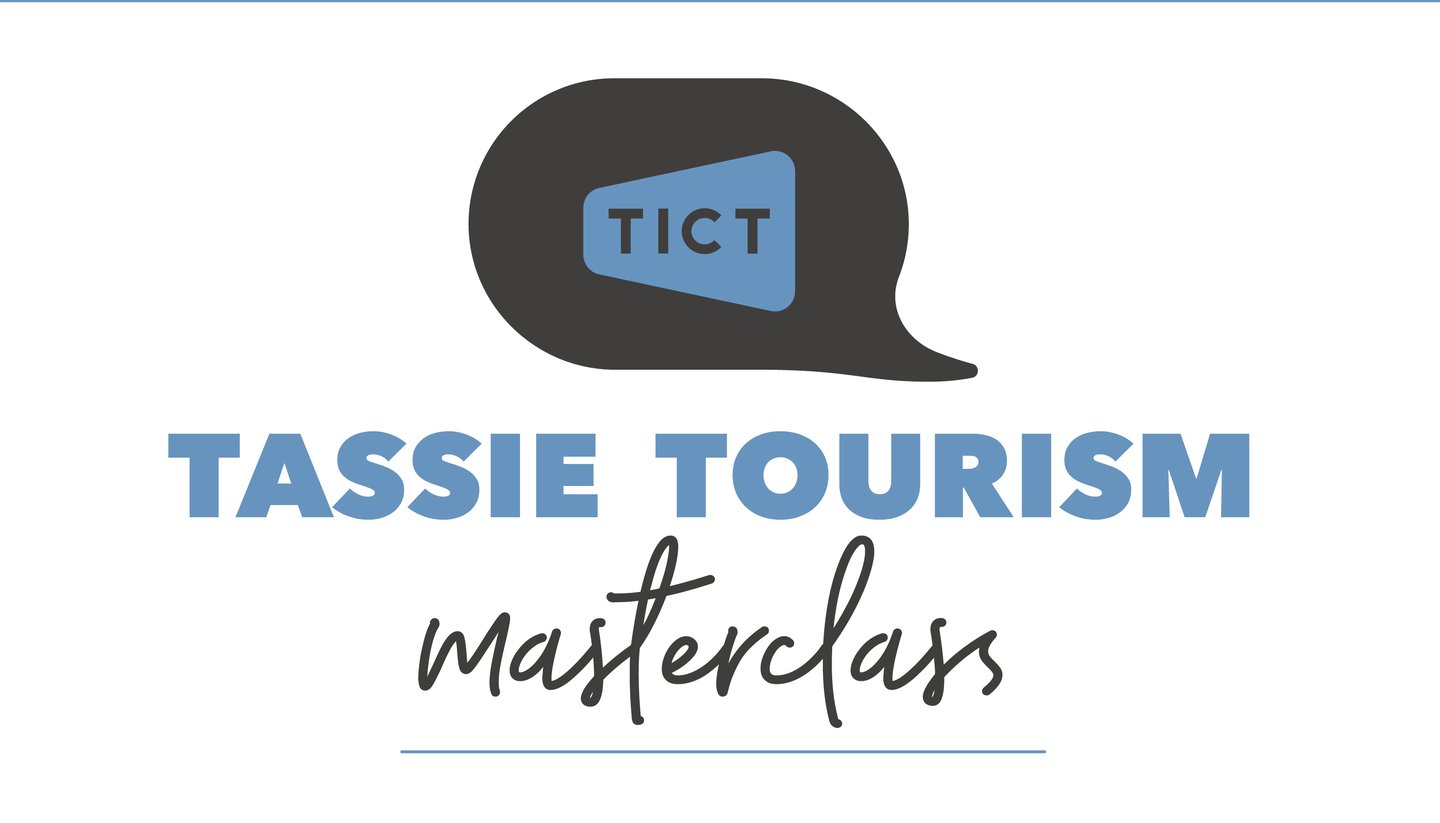 Tassie Tourism Masterclass
A TICT initiative supported by the Tasmanian Government through the Department of State Growth.
We're making some of the best and brightest in our tourism network available to you - Online and at No Cost!

Starting June 5 and running for 9-weeks over winter - the Tassie Tourism Masterclass is an online and interactive learning program where tourism operators and professionals across Tasmania can access insights and advice from our leading tourism consultants and gurus on the fundamentals of good Tassie tourism. 
Each week will feature a new relevant and practical module - focussed on the essentials of running strong and resilient Tassie tourism businesses.
The Details:
What: 9-week business accelerator course focusing on all areas of the fundamentals of tourism business in line with the Quality Tourism Framework that guides the tourism accreditation program and the National Tourism Awards.
Participants can proceed through the whole 9-week program, or choose to opt-in to key topics of interest.
Who: For all owner/operator businesses and larger businesses with managers/supervisors upskilling.
Where: All online on the TICT website & using Zoom online meetings
When: From June to August 2020
How:   Each week on Friday morning, a 45 minute recorded digital presentation by an industry expert on the topic of the week will be released. The workshop can be viewed at any time of convenience for the participant.
To accompany the presentation a an online forum through Zoom webinar will be held throughout the following week on Tuesday's 3pm to allow participants to interact with the instructor, or another specialist expert, and fellow tourism businesses to deep dive into specific topics, seek clarification and share ideas on that week's topics. The workshops will be based on key themes of the week's module.
Price: Free to participate and open to all industry stakeholders
To register for access to the conference call and all the details, sign up for your FREE ticket here
Sign up only once for your free ticket and each week receive a notification of the upcoming topic and invite to join the zoom meeting.
Program 1 - Markets and Products

Who are our markets, what are the tourism strategies, who's who in the Zoo, who does what, and who can help you be a better tourism business

With Learning Conference Zooms:

The ins and out of Tassie Tourism with David Reed - Reed Consulting & Owner of Cod Rock Point
Navigating tourism research and making sense of it all with Dr Allison Anderson - Manager Research & Insights - Tourism Tasmania




A practical and simple approach to business planning for a small tourism business, managing risk and business continuity

With Learning Conference Zooms:

Identifying and Managing Risk in the New Normal for Tourism - with Alicia Leis - Partner, Wise Lord & Ferguson
What should all SME Tourism Business be considering and factoring into their Business Plans right now? with Rob Cameron - Business Adviser Collins SBA




Week 3: (Starting Friday 19 June)
Tourism Numbers

Budgeting to make money in small business tourism : - P&Ls, budgets and maximising yield

With Learning Conference Zooms:

Building a budget planning for your Covid recovery - with Andrew Pearce - Adviser & Director at Collins SBA
Tourism yield. What is it, how do you maximise it, and why is it more important than ever - with Melissa Kalan - Founder Australian Revenue Management Association (ARMA)

Program 2 - Tourism Marketing

Defining your unique selling point and target customers.

With Learning Conference Zooms:

Work shopping your unique selling point - with Kathryn McCann - Communications and Marketing Manager at Beacon Foundation & TICT Deputy Chair
Identifying your target customers and what makes them tick - with David Inches - Principle Consultant at Inspired by Marketing




Maximising value from your market spend, social media and online presence

With Learning Conference Zooms:

Tips and tricks - social media marketing with Jen Murnaghan from Digital Dandy.
Effective marketing spend for SME tourism operators - with Sam Denmead - Green Hat Tourism & TICT consultant



The big world of inbound tourism trade, commissions, partnerships and packaging

With Learning Conference Zooms:

What you need to do to make your business 'Export ready'- with Karen Fraser - TICTs International Distribution Guru
From week 6 only 1 webinar will be held weekly

Program 3 - Business Systems

From Week 6 only 1 webinar will be held weekly

Customer service and what it might look like post Covid19 with Anne McVilly Director Tourism Operations Port Arthur Historic Sites

Looking after your employees - your rights and obligations with David Dilger - Director at Edge Legal - Integrated Workplace Specialists

Building great teams and workplace culture with Bianca Welsh from Stillwater Restaurant, Seven Rooms & Black Cow Bistro

Managing your online reputation with Sam Denmead from Green Hat Tourism & TICT Consultant

Opportunities to enhance your reputation - the value of awards programs and industry recognition Sam Denmead from Green Hat Tourism & TICT Consultant