Jessica Richmond & Luke Martin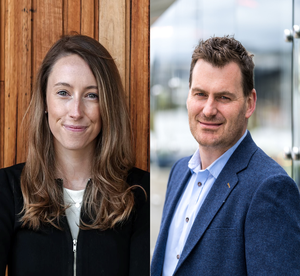 The pathway towards a Carbon Neutral (Positive) Destination Tasmania
In what may be the most significant and challenging opportunity for Tasmania to become a true global leader in positive impact tourism, the pathway for our island to be among the very first carbon neutral (or, positive) visitor destinations on the planet is now becoming clear.
In this breakout, Jessica Richmond will present initial findings from a very important pilot project Local Carbon is undertaking on behalf of TICT and the Tasmanian Government - individual carbon accounting audits of 30 very different tourism operators of all shapes and sizes across the State.
This project will provide a footprint of the emissions of different type of tourism businesses across the visitor industry, while identifying opportunities for industry-wide emission reduction. It will also establish some industry case studies of affirmative carbon action.
TICT CEO Luke Martin will then provide a summary of the policy and strategic challenges the Tasmanian tourism industry and State Government need to resolve in committing to the carbon neutrality aspiration.
About Jess
Jessica Richmond is Principal with Ellis Richmond, a Tasmanian-based consultancy specialising in carbon accounting and advising businesses on carbon accounting opportunities.
Jessica's background is in commercial law in the energy and resources sector, with strong senior management experience in the mining industry. Jessica has a Bachelor of Law, a Graduate Diploma in Legal Practice and is completing a Masters of Marketing. Jessica is a board member at Brand Tasmania, the State government's place branding statutory authority. 
Jessica has been the Commercial Manager at two mining operations and represents the mining industry on the Tasmanian Heritage Council. She has a strong understanding of the requirements of industrial operations, balanced with an understanding of community expectations and the need to manage both effectively for the benefit of all stakeholders.
About Luke
Luke Martin was appointed CEO of Tourism Industry Council Tasmania in March 2011.
Luke is responsible to the TICT Board in progressing the Tasmanian tourism industry's strategic and policy agenda with all levels of government, industry stakeholders, and the broader Tasmanian community.
Prior to joining TICT, Luke worked in corporate communications and for the Tasmanian community services sector. He also has experience as a political staffer, served as an elected representative on a Tasmanian council, and on the boards of a number of sporting and community organistions. Luke grew-up in small family-run tourism businesses.