Dylan Alcott AO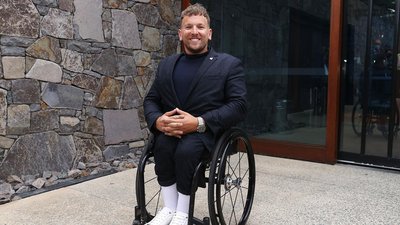 Prepare to be inspired, motivated and energised to make a Positive Impact in whatever it is you do.
15 x Grand Slam Singles Winner, 8 x Grand Slam Doubles Winner
Only male to win the 'Golden Slam' in Quad Singles (winning all four Grand Slam Titles plus an Olympic Gold Medal in the same year)
3 x Olympic Gold Medalist across two sports (Tennis and Basketball)
Newcombe Medalist, Paralympian of the Year.
Media Star, Advocate, Humanitarian, Australia's leading Motivational Speaker.
The 2022 Australian of the Year, Dylan Alcott AO will deliver the Key Note Address at the 2022 Tasmanian Tourism Conference. 'Positive Impact'.
About Dylan
Dylan Alcott AO is on of the world's greatest ever quad-tennis players, a Gold Medal Paralympian in both tennis and basketball, radio host, television personality, and motivational speaker.
Dylan Alcott was a member of the Australia men's national wheelchair basketball team, known colloquially as the Australian "Rollers". At the age of 17, he became the youngest Rollers gold medal winner at the 2008 Beijing Paralympics, and was the youngest to compete in the wheelchair basketball competition. In 2014, he returned to wheelchair tennis with the aim of participating at the 2016 Rio Paralympics, at which he won gold medals in the Men's Quad Singles and Doubles. He was named the 2016 Australian Paralympian of the Year due to his outstanding achievements at Rio.
Alcott is the only man to complete the Golden Slam in quad singles, winning all four majors and the Paralympics in 2021. In addition, he also won a separate non-calendar-year Grand Slam in quad singles between 2018 and 2019. He is also the only man to complete the Grand Slam in quad doubles, winning all four major titles in 2019.
Alongside his sporting career, Alcott hosted the weekend afternoon radio show on Australian radio station Triple J, and the ABC live music show The Set, as well as being a commentator for the 2019 Australian Open. He also was a member of the panel on the AFL Footy Show in 2019 until its cancellation.
In 2022, Alcott was named Australian of the Year and was made an Officer of the Order of Australia.