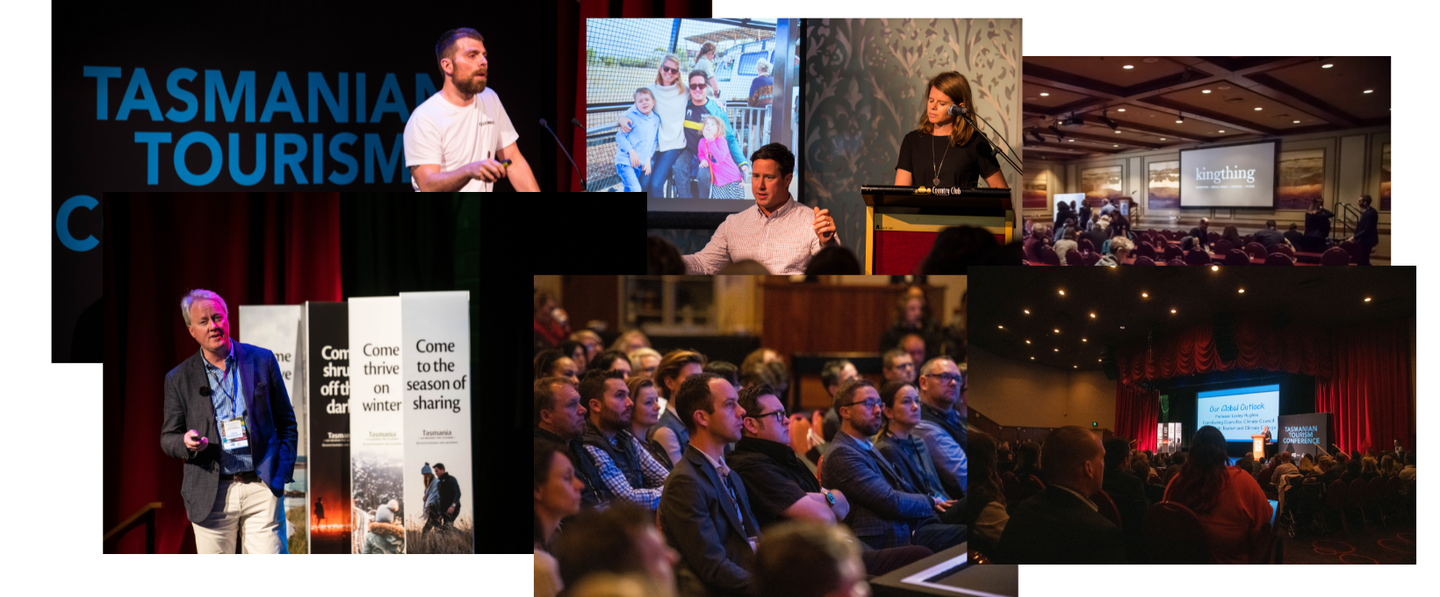 Thursday, 19 August 2021 - Country Club Launceston
Looking forward to the future of Tasmanian tourism in a post-COVID and post-Carbon world
Updates and insights from our industry leadership and destination marketers at the State and National levels
Deep-diving into our key industry strategic priorities from theT21 Tasmanian Visitor Economy Strategy
A dash of inspiration from some of Tasmania's best and brightest
One of Australia's leading presenters on the future and the state of the world - 'Future Crunch'


Please note: For obvious reasons this year, program is subject to change.

Click on the title for more information on the speaker and their session. (Profiles will be uploaded as provided)
Registrations & Coffee from 8.30 am
Coffee van supplied with thanks to Cumulus Studio
9 am - Setting the Scene
Welcome to Country
Representatives of the palawa


Welcome from TICT
Daniel Leesong, Chair, Tourism Industry Council Tasmania


Official Opening and Minister's Address
Hon Peter Gutwein MP, Premier of Tasmania & Minister for Tourism


The National and Global Tourism Outlook
Sarah Clark, Managing Director, Intrepid Group APAC


The Spirit of Tasmania 2021 Tasmanian Tourism Conference Keynote Address
COVID Diaries of a Backpack Tour Operator
Greg Price, Managing Director, Jump Tours


10.30 - 11 am Morning Tea
Sponsored by Steadfast Taswide Insurance Brokers


11 - 12.30 pm Building for the future


Alternative Futures for Tourism
Katy Cooper, Director, Neu21


Marketing Destination Tasmania in the New Normal
John Fitzgerald, CEO, and Emma Terry, CMO, Tourism Tasmania
with thanks to Tourism Tasmania


A whip around the State of our Future Building Visitor Infrastructure Projects

Bernard Dwyer, CEO Spirit of Tasmania - The Next Generation Spirit of Tasmania Ships
John Perry, Coordinator-General, Tasmanian Government - The Cradle Mountain Master Plan
Jason Jacobi, General Manager , Tasmanian Parks & Wildlife Service - Parks Infrastructure Program
Andrew Paynter, COO, NRMA Expeditions - Iconic Regional Tourism Infrastructure Assets
James McKee, Manager Innovation and Performance, City of Launceston - Major Visitor Attraction Projects for Northern Tasmania

12.30 - 1.30 pm The Legendary Country Club Tourism Conference Lunch
With thanks to Country Club Tasmania and Hype TV.

1.30 - 3.00 pm Deep Dive Break-Outs
Choose one of three concurrent break-outs at each of two sessions.
With thanks to Hostplus - Official Superannuation for the Tasmanian tourism and hospitality industries.

Session 1 (1.30 - 2.15pm)

Session 2 (2.15 - 3.00pm)
Opening the Gate: Accelerating Agritourism in Tasmania
Nick Haddow (Chair, Agritourism Reference Group) + Anne Greentree (Director, Visitor Economy Strategy T21), Henry and Anna Terry (Tasmanian Truffles), Andrew Pitt (President, Launceston Chamber of Commerce), Vonette Mead (Councillor, Latrobe Council) and Allison Clark (Lead Innovator, Optimum Standard and Project Lead, Opening The Gate: Accelerating Agritourism in Tasmania)
(Mt Pleasant Showroom)
3.00 - 3.30 pm Afternoon Tea
Sponsored by Knight Frank Realty.
3.30 - 5.00pm - The Big Close
(Trust us, you will not want to leave early and miss this!)
Bushfires, Pandemics and Optimism. A Tourism Tale.
Craig Wickham, Managing Director, Exceptional Kangaroo Island
Followed by our Closing Address:
Confidence And Living Fearlessly Through The Unexpected.
Hanny Allston - Tasmanian World Champion, Businesswoman, Mum, Runner, Inspiration.
With thanks to the Tasmanian Parks and Wildlife Service .
Ready To Register?
Registrations for the 2021 Tasmanian Tourism Conference are Now Open!
Click here for details