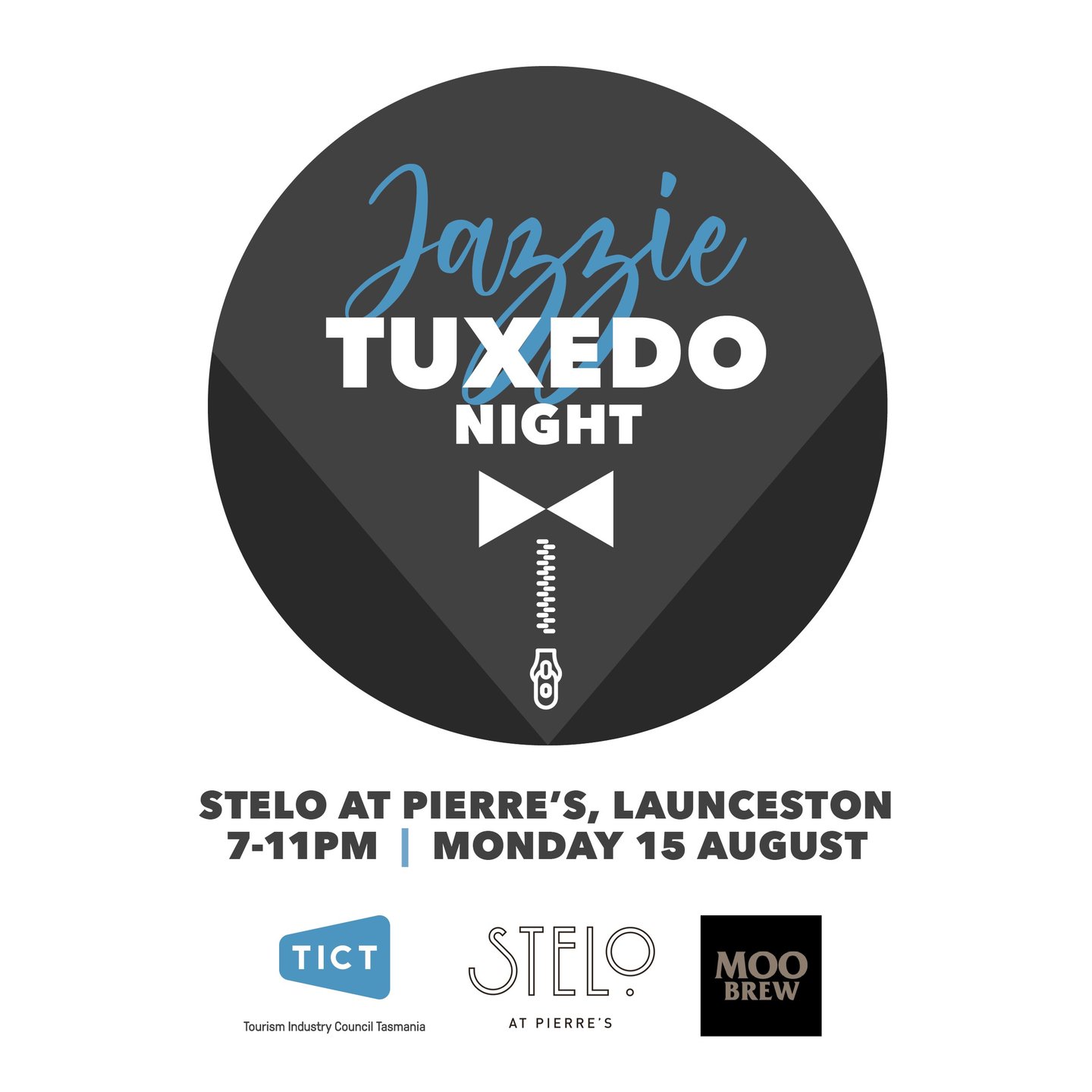 ... and all that jazz ...
Slip into the dimly-lit luxe of Launceston's iconic Stelo at Pierre's for a night of smooth jazz, roaming canapes and exceptional local wines.


… but don't worry. It's not ALL class.


The official uniform for the best networking event on the 2022 tourism calendar is the UNofficial uniform of our state: the Tassie – ahem – JAZZIE Tuxedo!

Thought your puffer jacket couldn't get any more practical? Well, its CV just scored another credential: this year, your wearable sleeping bag is the ticket to ride for the Tasmanian Tourism Conference's evening event.

Throw it over a gown, add it to a suit and tie ensemble, or just layer it up with the rest of your thermals and a beanie for a night of gastronomic delights, delicious libations and dazzling entertainment that's guaranteed to keep you warm inside and out. The whole restaurant and its hidden outdoor courtyard are ours for the night.

Jazzie Tuxedo includes:
All night feasting on a smorgasbord of bite-sized, hot and oozy Stelo snacks, created from seasonal and locally-sourced produce


The exclusive Oscura by Stelo Cocktail Hour where you can expect dapper bar folk stirring and shaking up your signature sip


Four hours of the finest Tasmanian sparkling, wine and cider


Beers from Tassie's largest craft brewery, self-described as "cold, wet and delicious" (so, yes, they're from Moo Brew - who else?)


Live jazz from Launceston's Jason Whatley Trio - get ready to let your inner Ella Fitzgerald rip


A live jazz dance performance from Swingmania, AND


A fast-tracked swing dance class so you can perform your new moves to the smooth beats of a live band (if you were around for last year's Pub Choir routine, this is your chance to show the industry you're a double threat)


A two-hour set from DJ Juniper that just might have you ripping your Jazzie Tuxedo off on the dance floor

Plus - without a doubt, the best networking event on the Tasmanian tourism calendar.

Jazzie Tuxedo Night
Monday 15 August 2022
7 - 11pm
Stelo at Pierre's
Please note - you do not have to be a Delegate to the 2021 Tasmanian Tourism Conference to attend the Jazzie Tuxedo Night. Friends of Tourism are more than welcome to join us.
BUT numbers are limited, so get in early to avoid disappointment!
BUY TICKETS