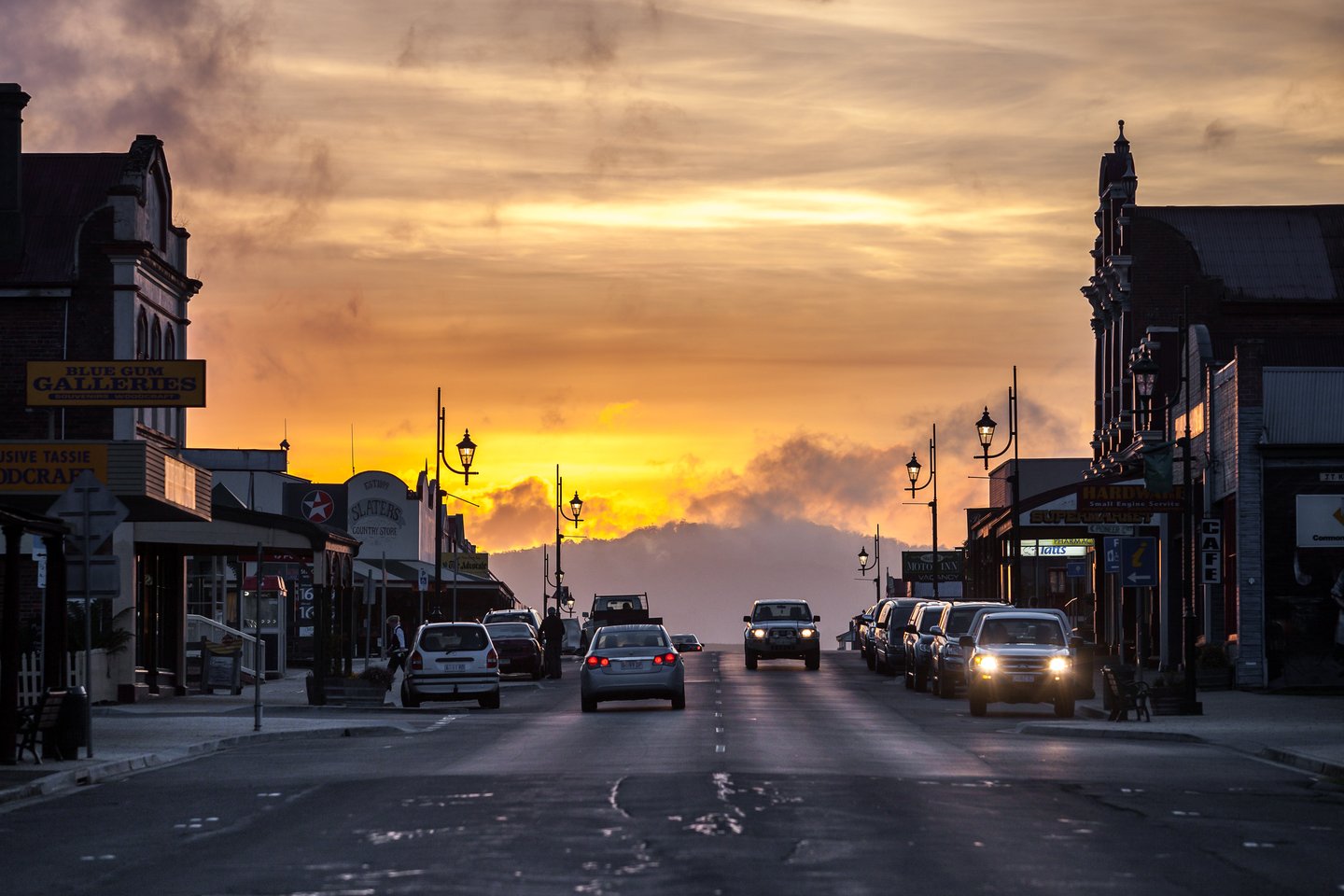 Unearthing the Unordinary in Tassie's Top Tourism Town
Beauty comes naturally for Sheffield. The streetscape is old-school quaint. Striking Mount Roland is the town's wall hanging. Country roads lead in past curious letterboxes. Neighbours are the likes of Promised Land, Cradle Mountain and Paradise. Is there substance beneath the handsome good looks? For those who give this region time, the finds are far from ordinary.
Her fingers dance across the footpath piano keys. The un-tuned notes rise into Sheffield's mountain air in a lively cacophony. Her crowd is no more than two locals. Her smile, however, radiates as if she's performing for a sold-out stadium. Next, she's upstaged by a fella striding onto the main street wearing a wartime parachute. I haven't entered some live Tasmanian performance – this apparently is just an ordinary day. Having grown up just 30 minutes from this rural outpost, in a swift moment I fall madly for the town.
As a local travel writer, I've spent years writing about Sheffield. I've noted the usuals time and again. It's the town of murals. It's the gateway to Cradle Mountain. Yet it wasn't until I stopped still, listening to a visiting UK native's wayward notes, that I realised this endearing town has it all. Charm. Community. Eccentricity. Ethereal nearby wilds. Even an oddball donning a parachute.
What is this humble town's attraction? It's that it doesn't yell 'tourist attraction.' Yes, there are spectacular murals, giving rise to visitors descending for over 100 large-scale outdoor artworks. But this is countered by an authentic country town not re-designed for a passing buck. It has heart. Stores like Slater's still wrap with nostalgic brown paper. Kids play in wide open spaces like it's the olden days. Volunteers emerge as the proud heart of annual events like Steam Fest, Mural Fest, Medieval Fest and all manner of other fests.
Visiting during Mural Fest, community spirit danced before me. A mother and daughter swept brush strokes across an increasingly vibrant canvas and another artist agreed to paint a family dog's tail blue. Colour and creativity were rife. Murals came alive like that of a Sheffield boy who invented the world's first coin-operated petrol pump, testament to Sheffield's title of 'Tasmania's Outdoor Art Gallery.'
In these parts, a quick peek through a main street door can roll into hours. Like, who knew there existed a Contraptuary where for a few dollars you can enter a world of mechanical toys and oddities? A few steps further and there's The Emporium with its rare vinyl records, old titles and surprisingly, a wartime parachute.
That's what happens scratching the surface of Sheffield – one unearths working artisans, artful tailors, homemade fudge, craft beer, fresh produce from nearby fields and upcycled furniture.
This is a place to be explored slowly. Kids with eyes only for iPads are diverted by quirky Wilmot letterboxes, and signposts for Paradise, No Where Else and Promised Land spell joyous diversion.
It's where a platypus breaks the surface for that patient family who trade swift-pace for stillness atop Forth Falls. It's where riders are delivered 'flow' on the Wild Mersey mountain bike trails. It's where clouds lift 1234m above sea level over Mount Roland.
For travellers seeking the unordinary, this patch is Something Else.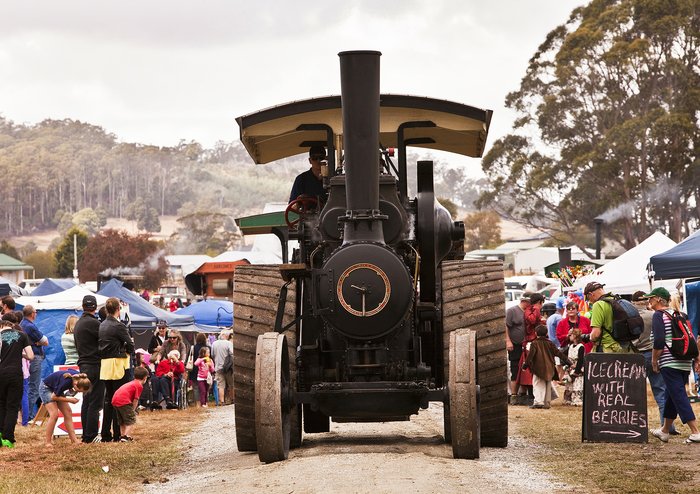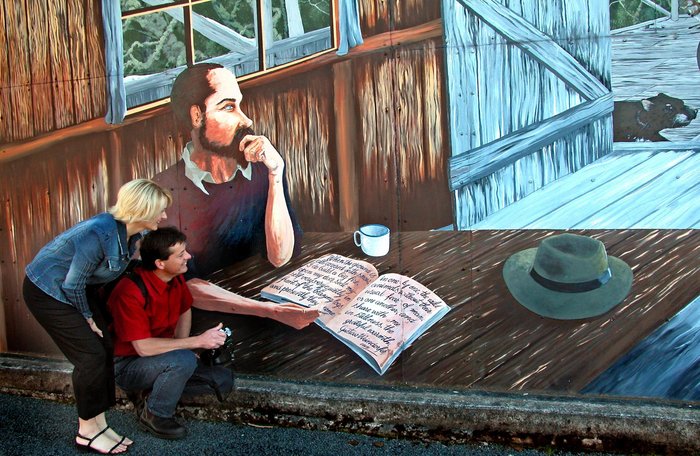 Beauty comes naturally for Sheffield. With its charming streetscape and the backdrop of Mount Roland, Sheffield attracts families ready to explore its country roads and nearby gems. Immerse yourselves in food, art, culture, history and nature for a trip away that is something else.
TOP 10 FAMILY MUST DOS:
Uncover more than 100 giant outdoor artworks in Sheffield including at Mural Park.
Indulge in quality produce at local cafes, restaurants and on a tasting trail that serves up handcrafted beer, wine, spirits, chocolate, cheese, berries and more.
Whether it's window shopping or retail therapy, peek inside shops on Main Street to find wares from creative artisans, producers and curators.
Marvel at breath taking views of the imposing Mount Roland from all angles.
Entertain the kids for hours at Tasmazia and The Village of Lower Crackpot where fun and laughter rule.
Enter a world of mechanical toys, gizmos and hooziwhatsits at the interactive world of the Contraptuary.
Fish, swim, row, water ski, paddle, picnic or camp at Lake Barrington, site of world-class rowing events.
Encounter World Heritage Listed Wilderness at Cradle Mountain.
Learn why the region has become known as Tasmania's Outdoor Art Gallery with a visit to Railton-Town of Topiary and the novelty Wilmot Letterbox Trail.
Get your blood pumping on the Wild Mersey Mountain Bike Trails.
Day 1:
Begin your adventure in north west Tasmania exploring the world's largest outdoor art gallery. More than 100 murals are dotted across Sheffield and Mural Park.
Browsing through the town's murals and shops will take you back in time to old-school hospitality and storytelling. The history, art and culture of the town attracts and inspires, playing host to a rich assortment of attractions and events, like Steam Fest, Mural Fest, Medieval Fest, Kentish Museum and more.
Stroll through town taking in a world of wares and creations from local artisans, producers and curators in shops and galleries that includes Slaters Country Store, The Emporium, and Working Art Space Sheffield.
Feed your family at any number of cafes and restaurants suiting your tastes and budget, from Fudge and Good Coffee, Mountain Mummas, Blacksmith Café, the Sheffield Hotel, T's Chinese Restaurant and Basilico.
Head onto Promised Land for a visit to the "politically incorrect" Tasmazia, which hosts the world's largest complex of winding mazes and a miniature Crackpot Village and the Upside Down House hidden deep inside the hedges - a fun-filled experience for people of all ages.
Overnight nearby in family friendly options like AAA Granary The Last Resort, Gowrie Park Wilderness Village or Silver Ridge Retreat to name a few.
Day 2:
At 1,545 metres Cradle Mountain may not be the highest peak in Tasmania but its jagged outcrops make it the most imposing.
From your accommodation head to the newly opened Cradle Mountain Visitor Centre, a match for the majesty beyond in the Cradle Mountain-Lake St Clair National Park.
World-class walking tracks offer short strolls to the legendary Overland Track. There is something here for every family. Whether it is snow in winter; vibrant colour displays with the annual 'turning of the fagus' in autumn; baby animals in spring; or the scent of wildflowers and refreshing water on a summer's day.
One of the best and most photographed walks in Tasmania, the short walk around Dove Lake clocks in at 6km along an easily traversed boardwalk and marked track.
For the more adventurous, take to the skies with a Cradle Mountain Helicopters flight, or launch yourself off waterfalls, abseil down cliffs and shoot through nature's waterslides with Cradle Mountain Canyons, no experience necessary!
Encounter native wildlife at the aptly maned Wombat Pool near Ronny's Creek, or a tour with Devils@Cradle will not disappoint.
After a day in the Park, experience nocturnal animals come alive with one of the sanctuary's uniquely Tassie evening tours.
Overnight options range from budget camping at Discovery Parks – Cradle Mountain to mid-range hotels at Cradle Mountain Wilderness Village, and beyond.
Day 3:
Start your day with the short Enchanted Forest loop walk close to your accommodation.
Starting at Cradle Mountain Lodge, this 20-minute, 1.1km circuit suits all ages. The trail leads through button-grass plains, past three interpretive tunnels perfect for children to explore. Beside the Pencil Pine River you will come across several wombat burrows, where you can often spot local wildlife at dusk and dawn.
Set off towards Wilmot taking in the distinctive letterbox trail created by local residents from re-cycled materials. One of the most unusual features in the area, the trail is bookended by a life-size Tardis at the southern end and a Dalek in the north.
The trail is a great activity to keep the kids entertained as they try to spot around 80 novelty letterboxes, like Ned Kelly, numerous animals and a skeleton riding a bike.
Stop for a picnic lunch and stretch your legs with a walk to Forth Falls or water activities on Lake Barrington.
Continue your drive on winding roads past wilderness areas and a patchwork of undulating farmland to nearby overnight accommodation like The Truffledore and others.
Day 4:
Fuel up at one of Latrobe's many cafes or get your chocolate fix at House of Anvers. Latrobe is a treasure trove of new and old, from antiques to on-trend homewares and fashion. Don't miss Reliquaire, quite literally a Wonderland of gifts and toys.
Get the blood pumping on the Wild Mersey mountain bike trails. BYO bike or hire from NW Safaris' drop off service. These trails are perfectly geared to any skill level and will soon connect through to Sheffield.
Take the short drive to Railton – Town of Topiary – home to more than 100 imaginative topiary characters along streets, parks and private gardens.
While there, take a pit stop for some of Tasmania's best beer and cider at Seven Sheds Brewery, Meadery and Hop Garden or a spot of lunch before returning for supplies to Sheffield – Tassie's Top Tourist Town!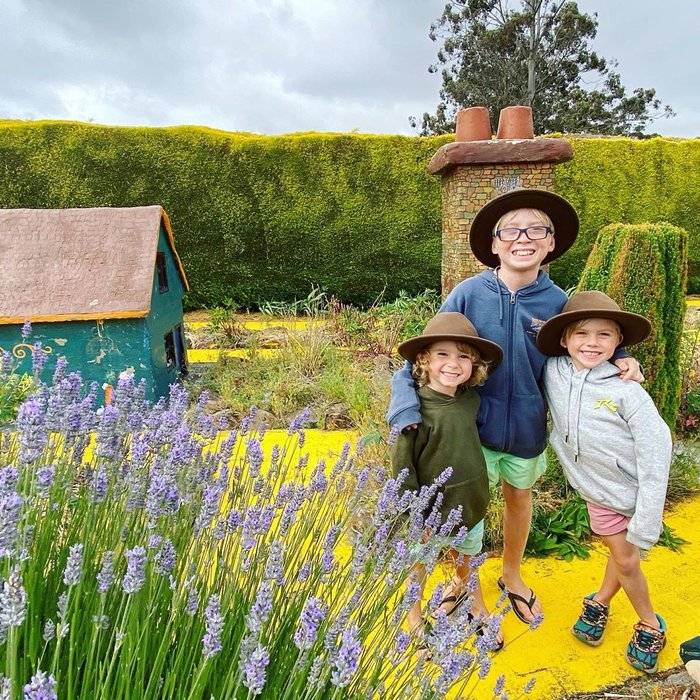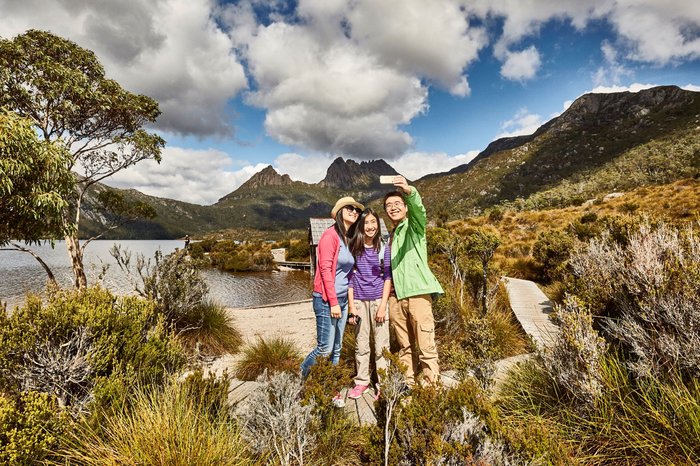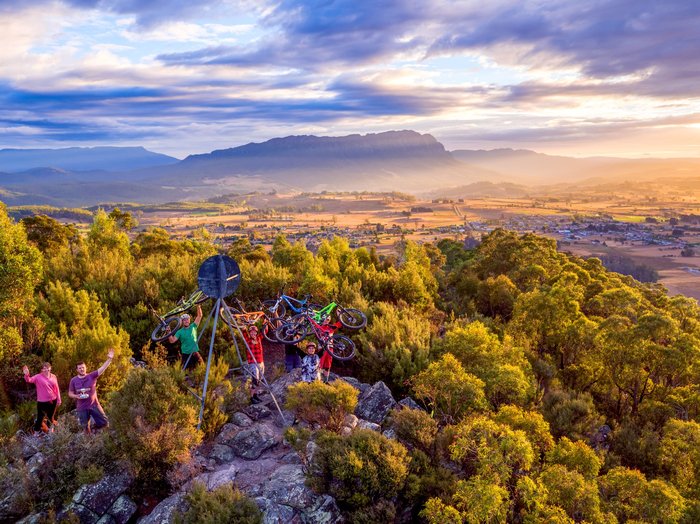 Take me back to the list of Tassie's Top Tourism Town entries