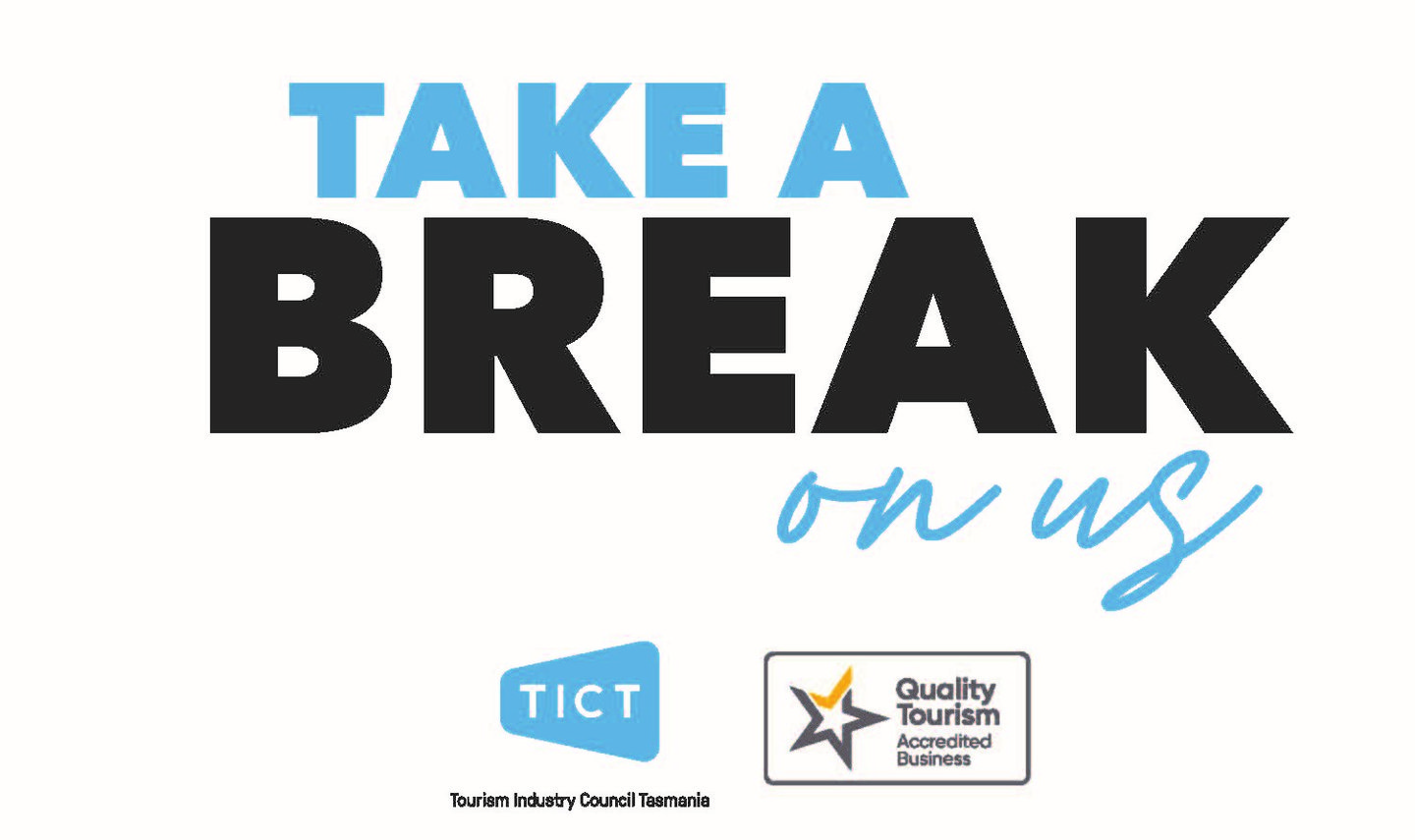 Exclusive Offers for Tasmania's Health & Aged Care Workers
The Tasmanian tourism industry is coming together to acknowledge and says thanks to the thousands of Tasmanian health and aged care workers who have done such an extraordinary job through the pandemic.

Tasmania's nurses, allied health professionals, carers, doctors, paramedics, cleaners, orderlies, health administrators and everyone working in our hospitals, medical centers, and aged care facilities, have all worked through some of the most challenging circumstances dealing with Covid, and continue to deal with high demand on our health system.

The best way we can say 'thanks', is to invite you to 'take a break', with exclusive offers for you to experience some of our fantastic Tasmanian accommodation, tours and attractions across the State.

This is not another voucher program - there are no ballots - the exclusive offers are available now to anyone working in a Tasmanian Health or Aged Care setting to experience from 1 August to 14 September 2022.
What you need to know:
To secure one of the exclusive offers, simply scroll down to see all the offers submitted by our operators, along with their instructions on how to book or access the offering. Click on the business name to go to their website.
To be eligible for one of the exclusive offers you must be currently employed in the Tasmanian Health Service, with a private or community hospital or medical service, or in an Aged Care facility.
Our tourism operators may ask you to verify your eligibility.
You can do this by simply taking a screenshot and sending them - or bringing with you when you arrive- one of the following poofs of eligibility:
Your current Australian Health Practitioners Regulatory Agency (AHPRA) certificate.
Your workplace ID clearly showing your name, and workplace.
A recent pay slip clearly showing your name and place of work.

Please note: These offers can not be claimed in conjunction with any other deals or promotions. They are eligible to redeem over the period 1 August to 14 September, and must be booked directly with the operators.
But remember, the offers are on a first come, first served, basis. So if you see something you really like - please reach out to our operators and book your break as soon as you can.
We'll also be regularly updating the list as new offers are submitted - so keep coming back to check them out!
Finally, we appreciate everyone working in our health and aged care systems are still very busy, and many will not be able to get away for a night, or two. If this is you, please still consider 'taking a break' with some of the great offers below for single day experiences, F&B offerings, and admission to popular attractions across the State.
Happy Scrolling, Thank You, and please, try and 'Take A Break on Us!'
Southern Tasmania
East Coast
Northern Tasmania
North West
West Coast & Cradle Mountain
Win one of Five x $1500 Gift Vouchers
Spirit of Tasmania is generously providing 5 x $1500 Travel Vouchers so five Tasmanian health or aged care workers can take a well-earned longer break. The vouchers are valid for three years, there's no need to worry if you can't travel during the 'Take a Break on Us' travel period. Simply enter the draw for your chance to win!*

To enter the draw, click here and register your details by the 14th of September 2022.

*Conditions apply.